In the bustling world of Match-3 Mobile Gaming, Match3 Bubbles: Onsen Odyssey emerges as a refreshing blend of Anime Match-3, captivating storytelling, and free play to earn crypto rewards. Launching on 11 Aug. 2023, this open and free-to-play game is set to redefine the genre.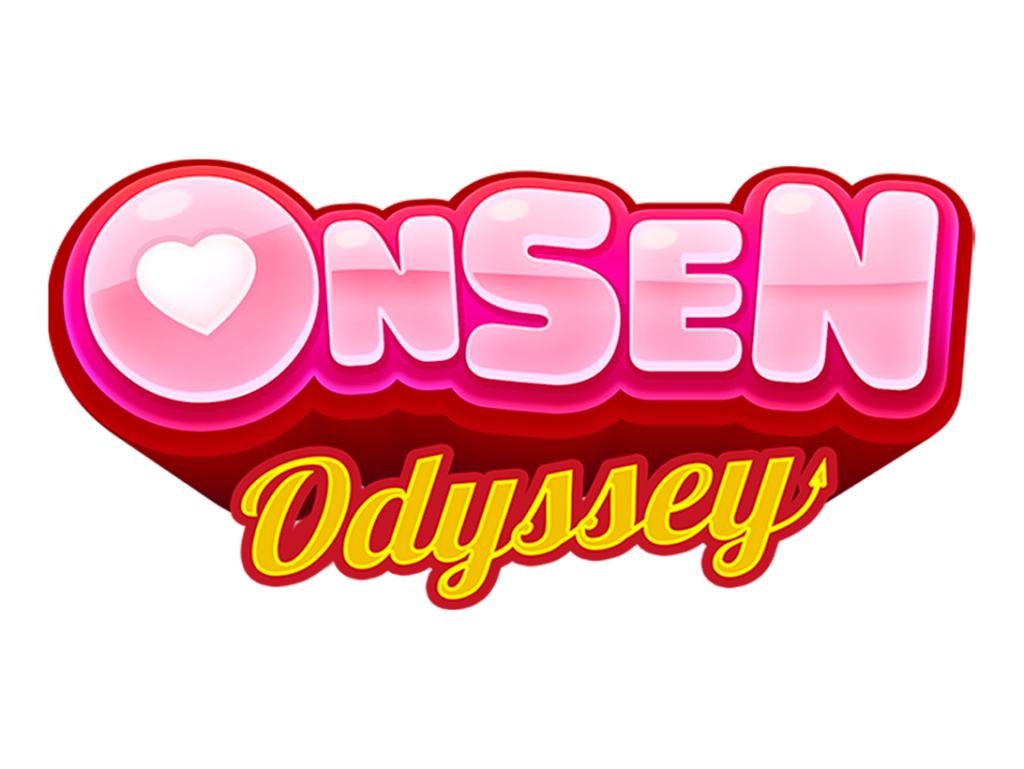 Combining the classic fun of Match-3 puzzles with the immersive world of Japanese anime-style dating simulators, it offers a unique gaming experience that's both engaging and rewarding.
The game takes players on a journey to a tranquil onsen (hot spring hotel) in Japan, where they encounter intriguing characters and unravel their mysteries. With its innovative Free2Earn game model, players can earn real cryptocurrency rewards, making it a game that's not just entertaining but also financially rewarding.
A New Match-3 Game with a Twist of Japanese Culture
Welcome to the world of Match3 Bubbles, where Match-3 gaming meets Japanese culture. Explore the picturesque onsen, surrounded by lush mountains and forests, and immerse yourself in the vibrant and colorful anime art style. The game's soothing zen music and authentic cultural elements offer a unique and relaxing gaming experience.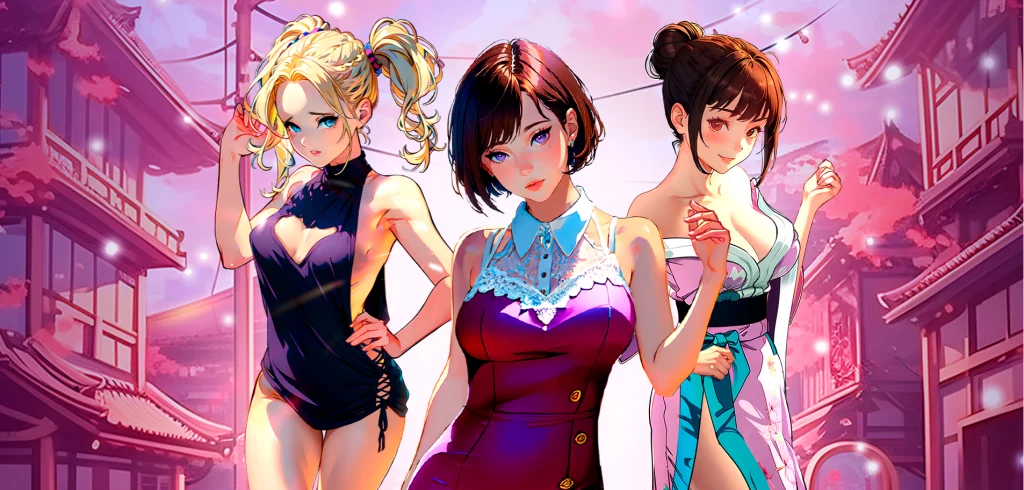 And it's not just about the aesthetics; it's about delving deep. Each region you unlock, every story you uncover, every waifu you meet—it's a cultural dive you won't get anywhere else. Whether exploring the onsen's bathing areas, gardens, or relaxation rooms, you'll find yourself captivated by their charm and the game's attention to detail.
In the game, players can choose from multiple dialogue options when talking to the girls, which will affect their relationship status.
The Free To Earn Game Model in Match3 Bubbles: Onsen Odyssey
What if you could play and earn at the same time? As mentioned earlier, one of the standout features of Match3 Bubbles is its integration of cryptocurrency through the Free2Earn game model.
Enjoy the game without any upfront costs and earn real cryptocurrency rewards. It's a groundbreaking concept that adds a new level of excitement and opportunity to the world of Match-3 Mobile Gaming.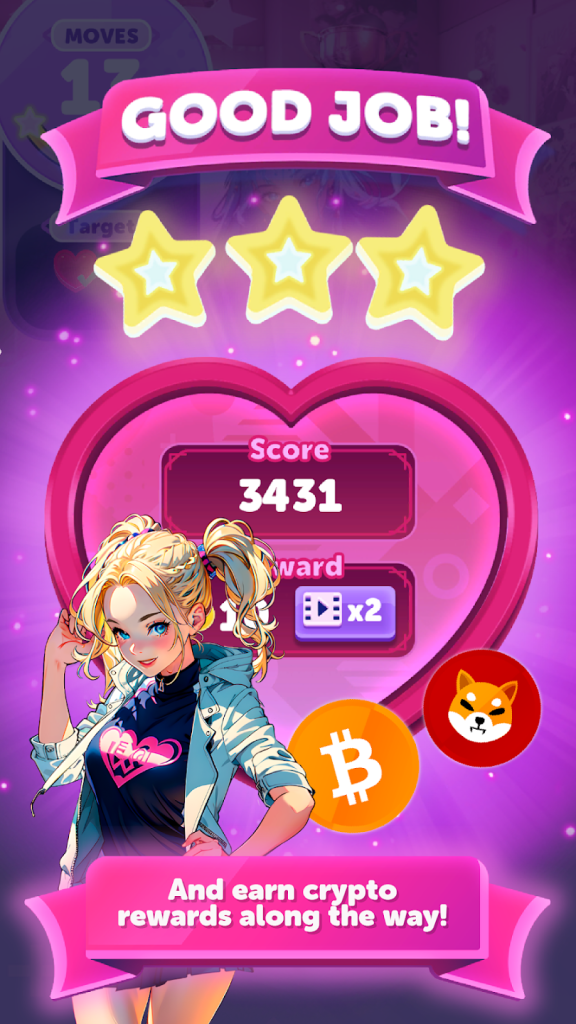 Those victories can now translate into Bitcoin, SHIB, or DogeCoin earnings!
With the integration of Binance Pay, your earned in-game crypto is always within reach, primed for use whenever you decide. It's a win-win situation that sets a new standard in the gaming industry, making your time in the onsen not just enjoyable but financially rewarding.
Integration of Binance Pay: A Seamless Way to Withdraw Your Crypto
In Match3 Bubbles: Onsen Odyssey, we've taken the gaming experience to the next level by integrating Binance Pay, a secure and efficient way to manage your in-game cryptocurrency earnings.
This seamless integration allows you to enjoy the game without any financial barriers, knowing that your earned crypto is always accessible. Binance Pay's user-friendly interface ensures that withdrawing your rewards is as enjoyable as earning them.
What sets this integration apart is its adaptability and future potential. Following the successful implementation of f2e in Clash of Pets, and with plans to integrate the free2earn into Dragonary soon, Binance Pay is becoming a standard feature in Coinary's gaming portfolio.
It's a testament to our commitment to providing a gaming experience that's not just fun and engaging but also financially rewarding. With Binance Pay, your time spent in the onsen, or battling pets, or even taming dragons, translates into tangible benefits that extend beyond the virtual world.
To withdraw your earnings, as in Clash of Pets, simply pop into the Free2Earn section, punch in your Binance Pay ID, and watch your crypto make its way safely into your account!
Meet Yuuma and the Girls
At the core of Match3 Bubbles are the main characters, Yuuma and Nagisa No Kami. Yuuma is on an adventure to restore the spirit of the hot springs, Nagisa, a semi-deity with a strong personality.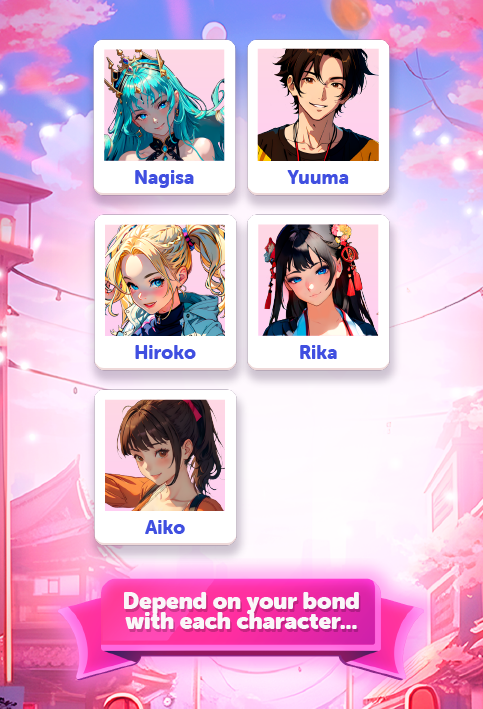 But they are not alone. Visiting the onsen are our magnificent waifus, some draped in traditional kimonos, hair styled to perfection, they're integral to the journey.
Now, remember, each waifu has her story, wrapped in mystery and tradition. As you successfully match those bubbles, you'll peel back the layers of their tales, and trust us, they're eager for you to know them better.
Successful completion of Match-3 puzzle levels allows progression in relationships with the girls, unlocking unique story content, including images that might just give you more than a blush. It's a delightful twist that adds an extra layer of excitement to the game, making it more than just a puzzle-solving experience.
The Second Match-3 Game in Coinary's Portfolio: A New Era of Gaming
At Coinary, we believe in evolution. So when we decided to introduce another game to our portfolio, we wanted it to be groundbreaking. Match3 Bubbles: Onsen Odyssey Match-3 is our commitment to that belief—molding the future of gaming, one match at a time.
Following the success of our previous Match-3 game, Clash of Pets, Coinary continues to push the boundaries of gaming by integrating blockchain technology and offering tangible rewards.
This new era of gaming not only enhances the player's experience but also opens up exciting opportunities for gamers and blockchain enthusiasts alike. A new era where fun meets financial reward.
With this unique blend of Anime Match-3 puzzles, captivating Waifus, and cryptocurrency rewards, Match3 Bubbles is set to become a standout title in Coinary's impressive lineup.
The Bottom Line
Match3 Bubbles: Onsen Odyssey is more than just a game; it's an experience. Wants to captivate and reward with its blend of Anime Match-3 puzzles, engaging storytelling, and innovative reward system. Whether you're a fan of puzzles, anime-style stories, or looking to dip your toes into the world of cryptocurrencies, Match3 Bubbles has something special for you.
It's evident – with the world Coinary's unfolding for us, they're not merely following the trend; they're setting it. A front-row ticket to the future of gaming is here, and guess what? You're holding it.
So, are you ready to dive into the world of Match3 Bubbles: Onsen Odyssey and experience the intersection of Anime, Match-3, and Free Cryptocurrency? The onsen awaits, and the excitement is just beginning. Join Yuuma and the girls on this unforgettable adventure, and who knows, you might just find more than bubbles in this hot spring!