Welcome to the exciting world of Clash of Pets: Sweety Match, where gaming meets blockchain technology. If you're eager to embark on an adventure filled with pet-matching puzzles and the opportunity to earn free crypto, Clash of Pets if for you. This new game takes the concept of traditional match-3 games to another level, allowing you to immerse yourself in a captivating experience while reaping the rewards of your skills.
The Free2Earn Game Model: A Win-Win Situation
At Coinary, we believe that embracing blockchain technology should be accessible, frictionless and enjoyable for everyone. With this vision in mind, we have pioneered the free2earn game model, a unique and innovative approach that combines the best aspects of free-to-play and play-to-earn games. This model allows you to enjoy the thrilling gameplay of Clash of Pets without any upfront costs while earning real rewards in the form of cryptocurrency.
Imagine diving into a world of adorable pets, engaging challenges, and explosive gem-clearing actions, all while accumulating valuable crypto assets. The free2earn game model creates a win-win situation, where you get to have fun and earn free crypto at the same time. It's a revolutionary concept that sets Coinary apart from other gaming companies and opens up exciting opportunities for gamers and blockchain enthusiasts alike.
Gone are the days when gaming was merely a recreational activity. Now, with the free2earn model, you can unlock the potential of blockchain technology and earn tangible rewards for your time and effort invested in playing Clash of Pets.
Whether you're a seasoned crypto enthusiast or just starting to explore the world of cryptocurrencies, Clash of Pets provides a perfect gateway to the exciting Web3 revolution. And with the integration of Binance Pay, Coinary ensures that your earned cryptocurrency is readily accessible, providing fast and secure transactions for your convenience.
How to Get Free Crypto in Clash of Pets: Sweety Match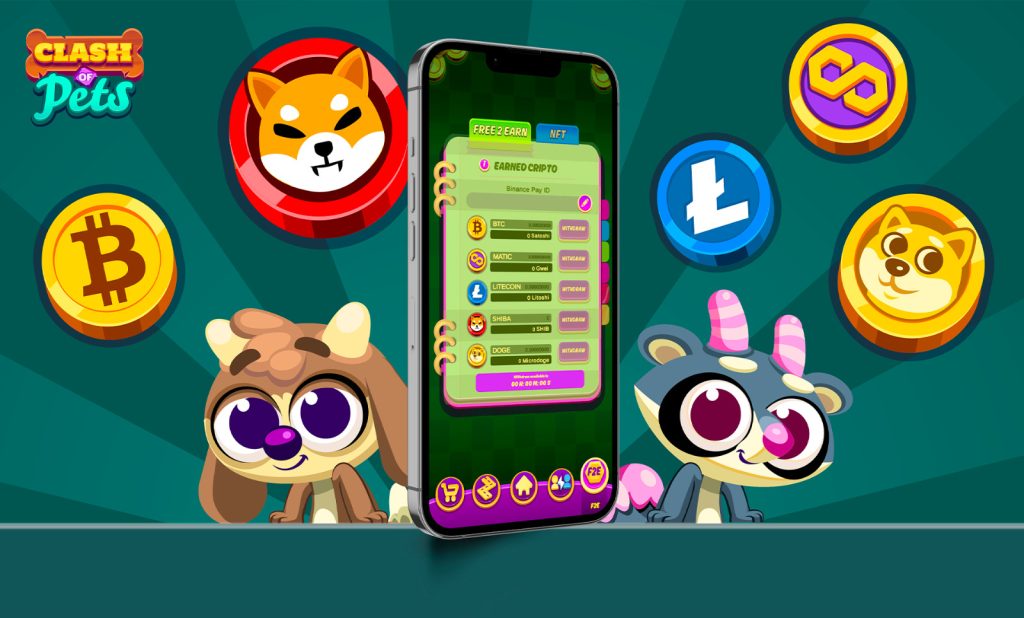 Clash of Pets: Sweety Match offers a plethora of opportunities for you to earn free Crypto. From Bitcoins, Shib, Matic, Dogecoin and Litecoins, you'll play to earn while indulging in addictive pet-matching puzzles. Let's dive into the exciting ways you can accumulate crypto rewards in this captivating game.
#1 – Clash of Pets Leagues
Are you ready to showcase your pet-matching skills and compete against other players from around the world? Clash of Pets Leagues is the perfect arena for you to prove your worth and earn crypto rewards in the process.
In the Leagues, you'll join a vibrant community of Clash of Pets players, each vying for the top spot on the leaderboard. As you came victorious from every PVP-matching puzzles with finesse, you'll earn League Points. These points are your key to climbing the ranks and unlocking incredible Chests with crypto rewards.
The higher you climb on the leaderboard, the more significant your crypto rewards become. Imagine the satisfaction of not only conquering the toughest pet-matching challenges but also earning valuable cryptocurrency as a testament to your skills. Clash of Pets Leagues combines the thrill of competition with the excitement of earning crypto, creating an adrenaline-pumping experience like no other.
#2 – PVP Mode
Do you have a competitive spirit and a thirst for intense battles? Clash of Pets' PVP Mode will satisfy your hunger for thrilling head-to-head matchups while offering generous crypto rewards.
In PVP Mode, you'll engage in real-time battles against other players, testing your strategic abilities and pet-matching prowess. As you emerge victorious from these exhilarating clashes, you'll not only earn bragging rights but also receive valuable crypto rewards.
The PVP battles in Clash of Pets are intense, fast-paced, and full of surprises. From a wide variety of mode to choose, you'll need to devise clever strategies, make swift decisions, and unleash the power of your pets to secure victory. With each triumph, you'll be one step closer to accumulating a substantial amount of cryptocurrency, adding a tangible reward to the excitement of your conquests.
It's important to note that Clash of Pets is designed to be accessible to players of all skill levels. It doesn't matther if you ar a newbie or a pro, the game provides a balanced and enjoyable experience for everyone. So, don't hesitate to embark on this adventure and start earning crypto rewards while having a blast with the adorable furry friends of Clash of Pets: Sweety Match.
Cashing Out Your Earnings with Binance Pay
With Clash of Pets: Sweety Match, not only do you get an exciting gaming experience, but you also have the unique opportunity to earn and withdraw crypto seamlessly. Here's a simple step-by-step guide on how to make the most of your in-game earnings with Binance Pay.
How to Initiate a Crypto Withdrawal
Enter the Free2Earn (F2E) section within Clash of Pets.
Input your Binance Pay ID to link your account with the game.
These steps enable a direct connection between your gaming progress and your secure crypto wallet on Binance Pay, making the transfer of your crypto earnings straightforward and efficient.
If you're seeking a comprehensive guide, don't hesitate to check out our detailed blog post on 'How To Withdraw Your Crypto Earnings from Clash of Pets'. It offers further insights and helpful tips to navigate this exciting gaming-blockchain integration and also, on how yo locate your Binance ID.
With Clash of Pets: Sweety Match and Binance Pay, the world of earning and withdrawing crypto is at your fingertips. Jump in and kickstart your rewarding journey today!
Wrapping things up
In conclusion, Clash of Pets: Sweety Match offers an incredible opportunity to earn free crypto while immersing yourself in a delightful gaming experience. Coinary's free2earn game model revolutionizes the way we approach gaming and blockchain technology, making it accessible and frictionless for everyone.
Throughout Clash of Pets, you'll discover various ways to earn crypto rewards. Engage in leagues to compete with other players and rise to the top while earning valuable crypto assets. Dive into PVP battles for thrilling head-to-head matches and the chance to earn crypto based on your performance. Clash of Pets truly combines the best of gaming and blockchain technology, providing an exciting and rewarding adventure.
So, what are you waiting for? Join the Clash of Pets community, explore the world of blockchain, and start earning free crypto today. Let Coinary's innovative approach to gaming and the power of blockchain technology open doors to new possibilities. Get ready to embark on a journey where fun and financial gain go hand in hand!