Are you ready for the future of gaming? We expect 2023 will be the year of NFT gaming and we couldn't be more excited! While NFTs have received some criticism in the past, 2022 was a huge year for video games incorporating blockchain technology. For this reason we are bringing here the top upcoming NFT games of this year.
As gamers at heart, we've spent countless hours playing various games on different platforms. But there's just something special about games that allow us to truly own the in-game items we've worked so hard to acquire. And that's exactly what NFTs bring to the table. They provide a more streamlined way to keep track of in-game items and offer a host of other benefits.
What are NFT games and how do they work?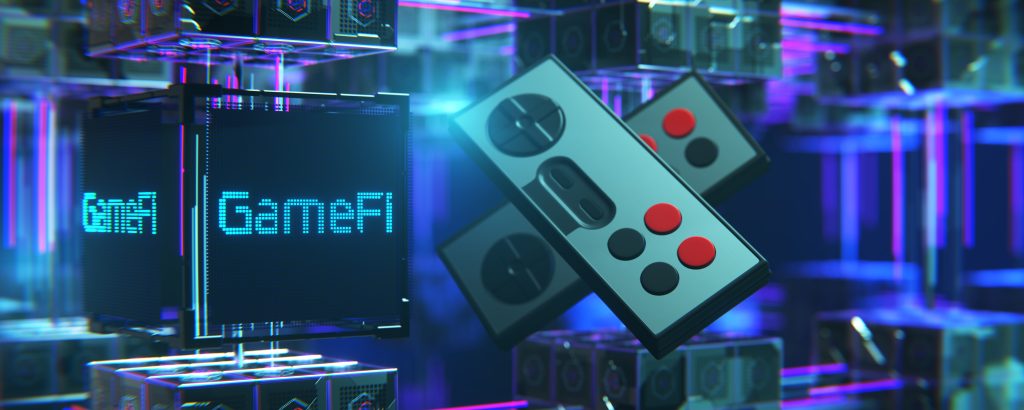 Have you heard of virtual economies in gaming? If you're a fan of MMORPGs like RuneScape or World of Warcraft, you'll know that these games often have millions of players.
But did you know that even free-to-play games often run on a "freemium" model? This means that gamers have to spend money on top of time and effort to get ahead or obtain rare items. Although these items may have value, the true ownership lies with the game developers, not the players.
So, here is where NFT games come into play. These games blend traditional gaming with blockchain technology, with NFTs playing a key role in the rules and player interactions of the game.
For instance, you might find NFTs in-game that you can collect, and even trade with other players. And for those looking to earn an income from gaming, play-to-earn NFT games offer just that and in this article we will be delving the most exciting upcoming this year.
This means, players get rewarded with tokens for playing, and the longer they play, the more they earn. However, it's worth noting that most play-to-earn NFT games require an upfront investment before you can start earning.
The play-to-earn model could be a win-win for both gaming companies and players. Where, gaming companies get to develop a thriving in-game economy, while players get to own their in-game assets and reap the benefits of their hard work.
The 7 Most anticipated P2E games of 2023
To kick off your exploration, we've compiled a list of the top 7 play-to-earn (P2E) games that are not only fun to play but also have great development teams. These games are poised to dominate the market in 2023, so it's the perfect time to start exploring and discover your new favorite game.
But, before we dive into each one, here's a quick rundown of the top upcoming NFT games we'll be exploring in this article.
Clash of Pets: Sweety Match – A match 3 Adventure of Sweetness and Crypto Rewards
Shrapnel – The Exciting New Extraction-Based Shooter
Waifu Slots – A Fusion of Gambling and Waifu Beauty
Illuvium – A New Take on the Monster-Taming Genre
Champions Ascension – The greatest RPG Battle NFT Game
Otherside – A Next-Level Metaverse Game
Superior – An immersive Cooperative, Rogue-Like, Third-Person Shooter.
Notwithstanding, we shall remind you: this article is for educational purposes only and the following information is the author's opinion and should not be considered as investment advice.
Now, with that in mind, it's time to dive deeper and examine the 7 best still in development NFT games to make some money in 2023.
1. Clash of Pets: Sweety Match – An Adventure of Sweetness and Crypto Rewards
Clash of Pets: Sweet Match is a free to download mobile game that combines the classic match-3 game with the fun of a Tamagotchi-style virtual pet. With hundreds of levels and the ability to compete against other players, this game offers a unique and entertaining experience for gamers. Here are some of its key features:
Pet City: Pet City is a special feature in Clash of Pets: Sweety Match. It's like the ultimate pet hangout where players can bond with their furry friends and have a blast playing mini-games and engaging in tamagotchi-style activities to take care of them.
Tamagotchi-style Activities: Again, The tamagotchi-style activities in Pet City add a fun and memorable element to the game. They allow players to care for their virtual pets in a similar way to the classic Tamagotchi game, but with the added excitement of a match-3 game.
Abilities of Pets: Each pet will have different abilities within the game that will boost the player's score and help dominate the leaderboards. These abilities will be more effective when the pet's mood bar (humor) is high, so make sure to take good care of your furry friend.
Clash of Pets: Sweety Match offers players the opportunity to earn cryptos just by playing the game. The game will use Binance Pay to deliver crypto rewards to the player. And the cryptos that will be available in this game are Litecoin, Shib, Dogecoin, and Bitcoin. Of course, to have the chance to earn there's no need for any deposit or upfront money.
Developed by Coinary LTD, Clash of Pets: Sweety Match is a unique blend of match-3 gameplay, virtual pet care, and crypto rewards. Players will have a blast making their way through hundreds of levels and taking care of their virtual pets in Pet City, all while earning cryptos for their efforts.
2. Shrapnel – The Exciting New Extraction-Based Shooter
Shrapnel is the the new first-person extraction shooter, boasts a talented team of experienced industry veterans from various backgrounds, including Star Wars, Bioshock, Black Ops, and more. Players will serve as operators for different factions, tasked with finding and extracting valuable resources while competing with other players.
The key features of this game are:
Three different operator classes, each with its own skill-based progression tree
Loadout customization using gear extracted in previous sessions and equipment crafted by the player
Player-created tournaments and missions
Ability to mint content into NFTs and trade them in the Shrapnel marketplace for rewards based on popularity
In earn mode, players can outfit their operators with gear before entering the zone. If a player dies, they'll drop their gear, and then, they must weigh the risk of success with every choice they make. Players can also collect the mysterious compound Sigma and extract loot from contested extraction locations, which are then placed in their persistent inventory as NFTs. The game will be issued on the ERC20 token and deployed on Avalanche shortly after.
This is why Shrapnel is set to take the number two spot in 2023 as one of the most eagerly upcoming NFT games this year. With its exciting story and unique features that can't be found in other extraction shooters. The game will introduce thousands of gamers to the power of owning their skins as NFTs and is guaranteed to be a winner in 2023.
Developed by NEON MACHINE, Shrapnel is a AAA Extraction FPS powered by next-gen community-driven tools, built on the blockchain to offer true ownership. Whether you're a player or a builder, you'll find your place in this not-too-distant future where a mysterious substance has changed the balance of power as we know it.
3. Waifu Slots – A Fusion of Gambling and Waifu Beauty
Waifu Slots is an innovative virtual slot machine game that brings together the thrill of gambling and the allure of Waifu characters. The game promises hours of entertainment, big jackpots, and even bigger prizes. With five reels, free spins, and the option to choose your Waifu companion, the game is designed to keep you entertained and engaged.
Along those lines, Waifu Studio has created a unique and immersive experience by combining the worlds of Waifus and gaming. The Waifus in the game are non-fungible tokens (NFTs), allowing players to own and collect these valuable digital assets. The Waifus you encounter in the game can truly become yours, making the experience even more exciting. Undoubtedly, Waifu Studio believes that the combination of Waifu characters and a free slot game is a perfect match. That its why its on the top 3 of the most awaited upcoming NFT games of this year.
Likewise, Waifu Slots offers players the opportunity to earn virtual tokens while enjoying the game. The more you play, the more virtual tokens you earn, which can then be used to unlock new Waifus and turn them into NFTs. This adds an extra layer of excitement and reward to the game, making it a must-play for anyone interested in gaming and crypto.
Additionally, the team behind Waifu Slots is Waifu Studio, a subcompany of Coinary LTD, and is a virtual gambling game available for free on mobile devices. The company's vision is to merge the worlds of Waifus and gaming, creating unique and engaging experiences that embrace the web3 revolution. Join Waifu Studio on their journey to bring their vision to life!
4. Illuvium – A New Take on the Monster-Taming Genre
Moving on, Illuvium is a highly anticipated blockchain game that has been making waves in the gaming community. With over 1 million gamers waiting to get their hands on this unique monster-taming RPG game, it's no surprise that it's one of the most talked about games of 2023.
Developed by the Illuvium company, co-founded by lifelong gamers CEO Kieran Warwick, game designer Aaron Warwick, and art director Grant Warwick, Illuvium is a collectible NFT RPG game and auto-battler rolled into one. The open-world RPG experience in the overworld lets players mine, harvest, capture, and fight Illuvials.
Moreover, Illuvium has had a busy year in 2022 with several exciting releases. The first half of the year saw the launch of the Beta illuvium and Arena, followed by a land sale that raised over 70 million dollars. The second half of the year brought the launch of the second version of Illuvidex, which also includes a staking platform, and the improved Beta Arena.
With the launch of Illuvium Zero in January and the recent crypto market boost, the Illuvium token has doubled in value since its lows a few months ago. Here is how you can earn some crypto in this blockchain-based game:
In-game rewards through competitions, tournaments, and PVE quests
Capturing Illuvials and collecting resources to buy and sell on Illuvidex, the in-game marketplace
Staking ILV and earning passive income through vault distributions
5. Champions Ascension – An RPG Battle Game with Crypto Rewards
Champions Ascension is an RPG battle game where players own, train, and equip NFT champions to find glory in the Colosseum Eternal. In a deeper look, is a fantasy RPG-battle game set in the world of Massina, ruled by generations of emperors.
In this blockchain game, players engage in strategic high-stakes battles to outsmart, outmaneuver and overpower opponents in the Colosseum Eternal. With its full-fledged open world and fast-paced, action-packed battles, this game have the potential to be a huge hit among Twitch enthusiasts.
Champions Ascension makes use of proprietary and industry-standard technologies to develop and deploy gameplay across a wide variety of platforms.
In contrast, the expert developers at Plai Labs Inc. have tremendous experience in crafting innovative gaming experiences and are utilizing this expertise to deliver a best-in-class gaming adventure across multiple cloud providers and regions.
You can purchase a Prime Eternal champion, each represented by a unique NFT on the Ethereum blockchain, from marketplaces such as OpenSea and LookRare and trade them in the marketplace. By holding an exclusive piece of this growing fantasy world, players can claim their share of the rewards.
In fact, the only way to obtain one of the limited 7,622 Prime Eternal Champions is through purchase, making them a valuable and limited item for players to collect and trade.
With the Prime Eternal Champion being the only top tier that boasts Divine parts, players enjoy eligibility for top-notch breeding mechanics and the opportunity to earn valuable Land and Diamondhand tokens. Not just rare and highly sought after, NFTs are also attainable through participating in battles and mini-games within the immersive open world. In short the more you play, the more rewards in the form of tokens you can earn!
6. Otherside – A Next-Level Metaverse Game
The Other Side Metaverse is the latest addition to the metaverse industry, developed by Yuga Labs Inc. This game-changing social metaverse is ahead of its competitors, including Mark Zuckerberg's Horizon Worlds, and is born to become the dominant player in a trillion-dollar industry by 2030. In fact, it blends the mechanics of massively multiplayer online role-playing games (MMORPGs) and web3-enabled virtual worlds, creating a metaRPG experience that's sure to set a new standard for the future of gaming.
Otherside doesn't accept cash, credit, or checks, and the economy runs on ApeCoin. Players can claim a plot of land by purchasing an Otherdeed, with the first 100,000 Otherdeeds available for sale on April 30, 2022. The second 100,000 exclusively awarded to Voyagers who hold Otherdeeds and contribute to the development of the game. Likewise, for Bored Apes or Mutants holders, their Otherdeed awaits their claim, while all other adventurers can purchase Otherdeeds with ApeCoin.
Furthermore, the Other Side Metaverse is set to revolutionize the gaming industry and provide gamers with an immersive, interactive, and collaborative experience. With its strong and well-funded community, it's definitely worth keeping an eye on this as one of the best upcoming nft games.
7. Superior – An immersive Cooperative, Rogue-Like Shooter.
Superior is a co-op, roguelite, third-person shooter that brings a new level of excitement to the gaming world. This game sets itself apart from others with its beautiful graphics and unique storyline. Players will embark on a journey to hunt down evil superheroes, steal their powers, and save the world.
On the other hand, The team behind Gala Games took part in the creation of worldwide sensations such as Farmville and the Fallout and Fable game series. With this level of experience, it's rare to come across a crypto-based gaming project that brings such an insane level of talent and excitement to the table.
Also, its already deployed on steam but, it is essential to note that it's not the web3 game but rather than the web 2 version of it.
If you're looking for the game's key features, here they are :
Challenging and a funny gameplay
Stunning futuristic graphics
The ability to explore a sprawling, hyper-stylized superhero universe through multiple biomes and dynamically configured missions.
No forced NFT use
Permanent Character Upgrades
Overall, with their experience and the use of blockchain technology, Superior offers players the opportunity to turn gaming into a professional career and earn crypto. So don't miss the chance to jump into this upcoming and most anticipated NFT games this year.
Exploring the Future Landscape of NFT Gaming in 2023
Undoubtedly, NFT gaming is shaking up the world of video games and providing a new level of real ownership for players. With the crypto industry on the rise, the gaming ecosystem is expected to be bigger and better than ever. As we look ahead to 2023, it's clear that NFT gaming will take center stage, with many potential contenders on the horizon.
However, NFT gaming is not just changing the way we play games, it's having a revolutionary impact on human affairs. These games provide a new way to learn and even a legitimate means of income in a world that can often be turbulent.
So, which from those upcoming NFT games should you try first? If you're still unsure, we highly recommend giving Clash of Pets a shot. With a soon-to-be released early access, this play-to-earn game has it all – from challenging players to its hyper casual match 3 elements. Plus, you get to enjoy the company of a virtual NFT pet that you can improve and enhance. But, the best part? You will have the chance to earn an income for free just by playing and having fun. In short, no investment required!