Gaming has always been an enjoyable pastime for many people. From the early days of Tetris, Mario, and Space Invaders, the gaming industry has continuously evolved in every aspect, captivating audiences with stunning graphics, engaging gameplay, and compelling storylines. In recent years, the gaming industry has become a legitimate business, with companies and platforms promoting their games through streamers, YouTubers, and vloggers. But, is it really possible to earn some bitcoins while playing games?
One of the most exciting developments in the gaming industry is the rise of play-to-earn gaming. This type of gaming allows players to earn in-game currency, which can be used to purchase non-fungible tokens (NFTs) or even traded for real-world payments. Play-to-earn games have gained immense popularity, and we will be discussing some of the top crypto games that are trading millions of dollars in value daily.
But first, a quick disclaimer: we're not authorized to provide any investment advice, and the information on this page should be construed for informational purposes only. With that out of the way, let's delve deeper into what play-to-earn gaming is and how it relates to Bitcoin.
But first, let's delve deeper into what play-to-earn gaming is and how it relates to Bitcoin.
What is Play-to-Earn Gaming?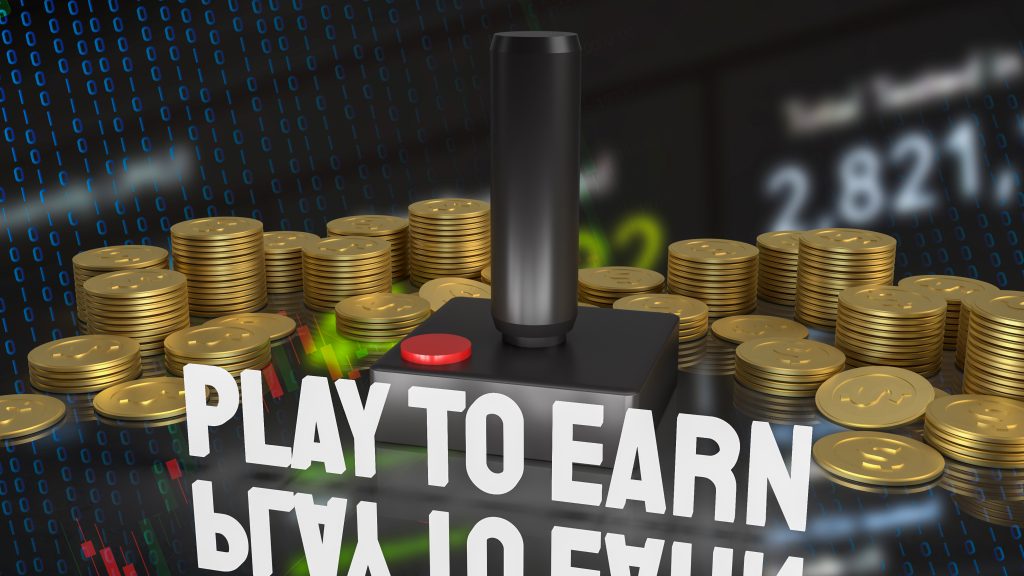 If you've ever wondered whether you can earn bitcoins by playing games, the answer is yes! Play-to-earn games allow players to collect cryptocurrencies or NFTs while playing. They can then sell these in-game assets for cryptocurrency rewards, which can be exchanged for fiat cash. The more players join and participate in the game, the more valuable the in-game marketplace becomes for the community and developers.
In the traditional gaming model, players invest skill, time, or money to accumulate in-game items, but they don't actually own those assets. In the play-to-earn model, however, players truly own the virtual assets they accumulate inside a game environment, which can be converted into real-world value. This is because of the decentralized nature of blockchain games, which permanently publish ownership of token-based currencies and NFTs on an immutable distributed ledger. This means that even if a specific game shuts down, players would still have proof of ownership over a valuable asset.
Earning tokens and generating revenue in play-to-earn games does involve skill and strategy. Players with more talent and skill will acquire more assets than those with less skill. The play-to-earn model is sometimes referred to as "play to own" because the model is rooted in the importance of both income and ownership.
If you're looking for the easiest way to get bitcoins or earn free satoshi, you might want to try out some of the best play to earn mobile games available. By participating in these games, you can earn bitcoins online for free while enjoying the experience of playing.
Why Will Gaming Platforms Pay You Money?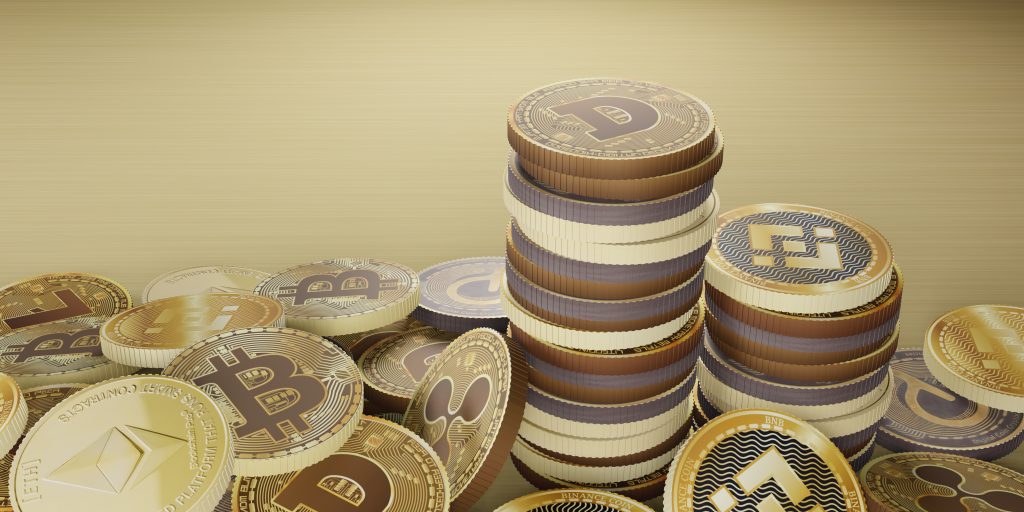 Are you wondering how gaming platforms can afford to pay you real Bitcoins for simply playing games? It might seem too good to be true, but these platforms have two main reasons for doing so.
Firstly, they earn a significant amount of money through advertisements on their websites. The more users they have, the more revenue they generate. By offering free Bitcoins, only a small portion of their earnings is affected.
Secondly, many gaming platforms use this approach for promotional purposes. Offering free Satoshis to new players or those who complete certain tasks is an effective way to attract more users and promote their services.
So, if you're looking to earn Bitcoins by playing games, take the time to research the different platforms available. Read reviews and forums to gain an understanding of their business models and reputation. And who knows, you might just become a successful casino player while being a lazy sloth!
Best Games on Mobile to Earn Bitcoins While Playing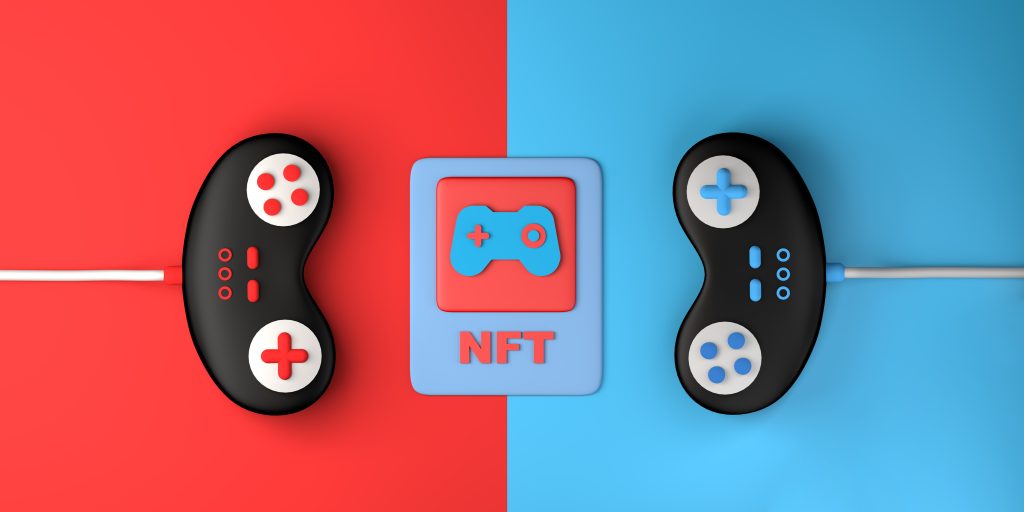 Are you tired of playing boring mobile games that offer no reward? Look no further because we've got the list of the best blockchain games that pay you to play! Not only do they offer dazzling NFTs and bitcoins, but they also enhance your crypto knowledge.
With blockchain gaming, you get to enjoy the freedom of ownership that traditional games can't offer. You can create, play and earn hefty amounts of bitcoins through these games globally. And don't worry, you don't need any experience in the crypto universe to start earning money.
The value of the gaming assets or tokens or bitcoins earned from these games depends on the market's supply and demand. As cryptocurrencies keep growing, Bitcoin is flourishing. The Android gaming niche has also evolved from basic blockchain games to GameFi's Play-to-earn gaming models. It seems like many people are winning bitcoins easily, and now it's your turn
List of 5 Most Popular Bitcoin Games to Play and Earn
So, let's dive straight into the details of the 5 most favorite bitcoin games that are fun, engaging, and offer excellent rewards. In this section, you will learn about the best apps that pay you with bitcoins for playing games, the best blockchain games to make money, and the best play-to-earn mobile games. Get ready to explore new ways to earn bitcoins and enhance your gaming experience with these amazing bitcoin mining games!
1. CryptoPOP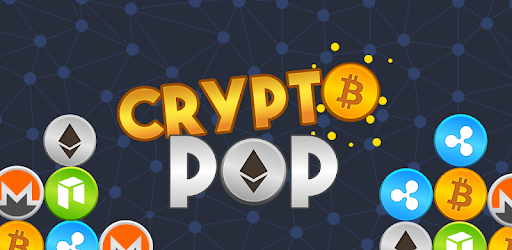 Are you tired of playing the same old boring games on your phone? Want to earn Bitcoin while having fun? Thas the core of CryptoPOP, the bewejeled-style game that pays you to match cryptocurrencies!
Similar to classic match 3 games, CryptoPOP has a fun twist. Instead of matching gems or candy, you'll be matching Bitcoin, Ethereum, Ripple, Monero, and other popular cryptocurrencies. The virtual balloons and sweet potato shapes make the game even more enjoyable.
As you group similar coins together, you'll be rewarded with Ethereum and Pop coins. But that's not all – this game also pays in various other currencies, including Bitcoins, Litecoins, Bitcoin Cash, and IDEX.
The more coins you group together, the more points you'll earn, and you'll receive cool badges like "Pump It", "Lambo", and "To the Moon" based on your success. Plus, the fewer coins you have at the end of each stage, the higher the bonus you'll receive.
Ready to join the millions of players who are already earning Bitcoin while having a blast? Check out CryptoPOP and add it to your bitcoin games list today. It's one of the best blockchain games for Android and one of the top apps that pay you to play games, so start playing and win free bitcoins!
2. Clash of Pets
Looking for a mobile game that combines adorable pets with the classic match-3 gameplay? Look no further than Clash of Pets: Sweety Match! Better than CryptoPOP, this game takes the basic swap-and-match mechanics of other match-3 games and amps up the excitement with dazzling, gem-clearing explosions that will have you feeling like a gem-matching master.
In addition to endless levels in the PVE mode, players can compete against each other in several modes, with the PVP side of the game. But what really sets Clash of Pets apart is the Pet City feature. In this section of the game, players get to take care of their very own furry friends, playing mini-games and engaging in tamagotchi-style activities. And don't forget, your pet can actually help you win the game! Each pet has special abilities that can give you the edge in matches, so be sure to take good care of them.
With Clash of Pets, you can not only have fun, but also earn bitcoin, Litecoin, Matic, SHIB, and Dogecoin thanks to the game's Free2Earn model. Plus, with the recent addition of Binance Pay, getting your hands on those rewards is easier than ever. It's like a fun, furry, gem-matching game where you can earn satoshis and cryptocurrencies! So, what are you waiting for? Give Clash of Pets a try and start earning those sweet, sweet bitcoins.
3. Alien Run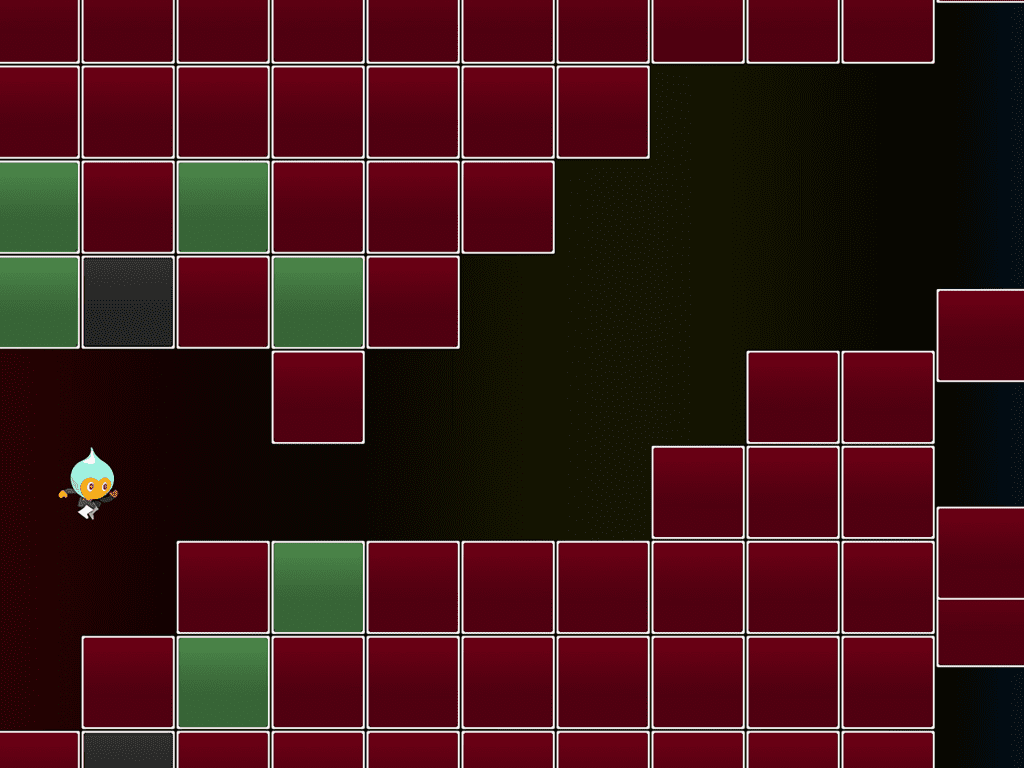 Alien Run is an exciting 2D runner game that you can play on your mobile device. This game is perfect for those who love action and want to start earning bitcoins. You'll join Daniel D'Alien on his greatest adventure and play new unique levels every day.
The game rewards you with BTC or bitcoins as you complete the different tasks. And the best part is, there is no gambling involved, and the game is entirely free. You don't have to worry about spending any money or making any deposits.
If you want to earn even more bitcoins, you can play the daily missions and adventures. This game is available for both android and ios devices, making it easily accessible to anyone.
While the game is fun to play, it's important to note that you have to earn 10,000 Satoshi before the game will cash you out. But with this free app, it's worth giving it a try. It's one of the best bitcoins earning apps out there that allows you to receive free bitcoins while playing a game you'll love.
4. CropBytes
If you're looking for a game that is both educational and fun, then CropBytes is perfect for you! This popular game is available for both Android and iOS devices and offers a variety of roles for you to play and earn. Whether you're a merchant, investor, or farmer, CropBytes has something for everyone!
What sets CropBytes apart from other games is its flexibility. Even if you're a beginner with little gaming experience, you can still excel by having a good understanding of investment. The app allows you to practice crypto mining and trading in an open market, making it a great tool for learning about the world of cryptocurrency.
CropBytes is a premier farming simulation game that lets you grow your crypto farm in the game metaverse. In this game, you get to raise animals, sell produce, and build a sustainable game economy that rewards players for their farming efforts and strategic planning. Farmers have plenty of activities to keep them engaged, from selecting the best animals to rear and crops to grow, to trading their produce on the exchange and collecting Superheroes.
With CropBytes, you can earn free Bitcoins while playing the game! This free-to-play game is one of the best Bitcoin games for iOS and even offers a Desktop versions. So why not give CropBytes a try and see how many free Bitcoins you can win?
5. Haste Arcade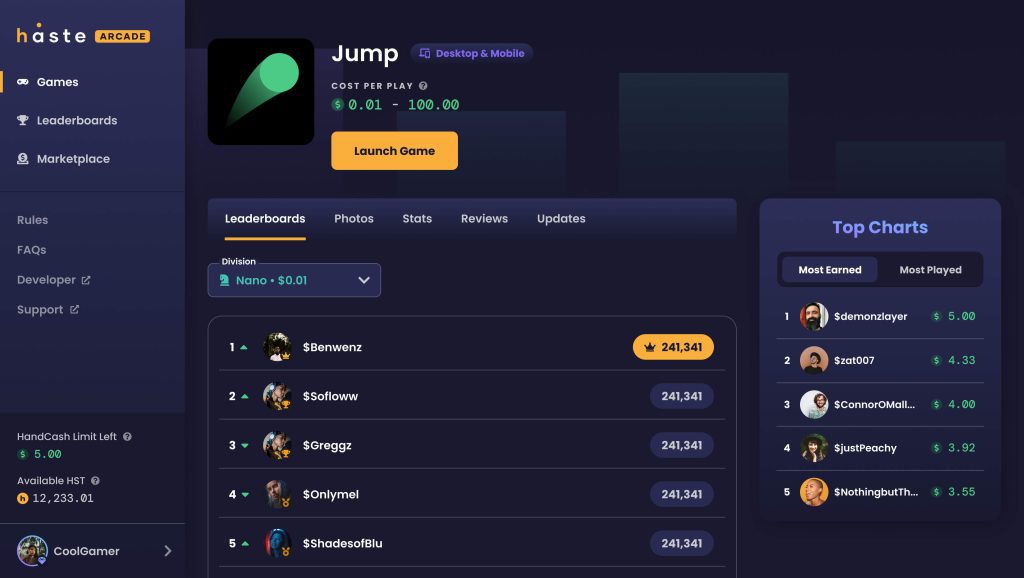 If you're a fan of classic arcade games, you'll love Haste Arcade! This app is packed with a variety of games that are sure to keep you entertained for hours. From first-person shooters to sports games, you'll find it all here. But what makes Haste Arcade truly unique is its Instant Leaderboard Payout (ILP) feature, which allows you to earn rewards in real-time based on your position on the game's leaderboard.
All you need to do is log in with your HandCash wallet and start playing. If you rank high on a game's leaderboard, you'll get paid by everyone who ranks below you.
And let's be real, who doesn't love a little friendly competition? The more competitive the game, the bigger the rewards. Haste Arcade is the world's first ILP gaming platform, which means that developers can create their own ILP-based games. This app is perfect for those looking to earn some extra Bitcoin while playing their favorite games. So why not give Haste Arcade a try and see how much you can win? After all, who wouldn't want to win big while having fun?
Playing Online Casino Games to Earn Free Bitcoins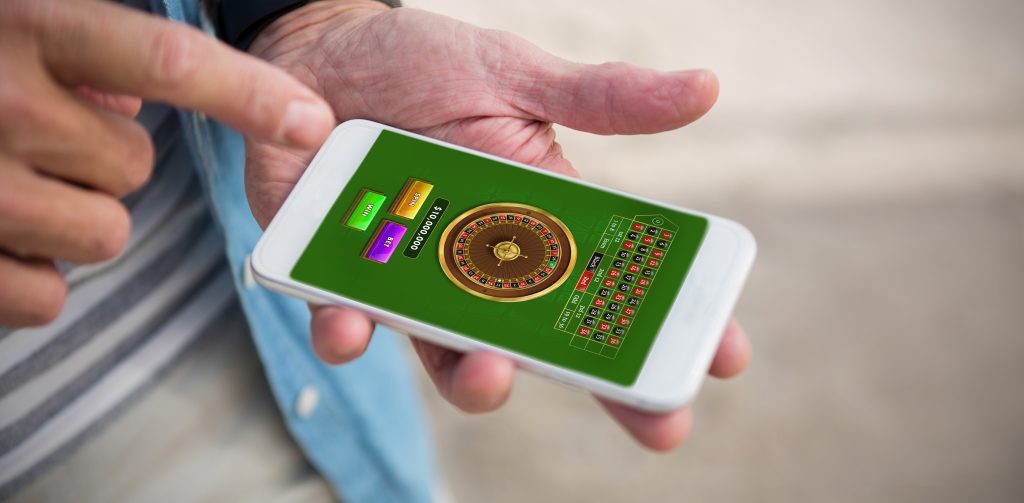 Many online Bitcoin casinos are now offering players the chance to earn free Bitcoins by playing simple games every hour. These casinos are becoming increasingly popular among the crypto community, as they provide a way for players to earn Satoshi without any investment. They also offer a wide range of games to players from all over the world, allowing online gamblers to avoid the regulations that restrict them from playing their favorite games.
If you're interested in earning free Bitcoin through online casinos, it's important to do your research and find a reputable and trustworthy platform. Look for a casino that offers provably fair games, which use cryptographic algorithms to ensure that the outcome of each game is random and unbiased. You should also check the casino's security measures, such as SSL encryption and two-factor authentication, to ensure that your personal and financial information is safe.
Once you've found a trustworthy Bitcoin casino, you can start playing games and earning free Satoshi. Many casinos offer hourly free spins or rolls, which allow you to win small amounts of Bitcoin without having to make a deposit. Some casinos also offer faucet systems, which provide small amounts of Bitcoin to players who complete certain tasks, such as filling out surveys or clicking on ads.
It's important to note that while playing games at a Bitcoin casino can be a fun and potentially lucrative way to earn cryptocurrency, it is still gambling and comes with its own risks. Always gamble responsibly and only invest what you can afford to lose.
Are Bitcoin Games Legit?
Are Bitcoin games legitimate and safe? The answer is yes, but it's important to do your research before playing. There are many free games you can play on your mobile device that allow you to earn Bitcoin. However, not all of them are legitimate. It's important to be careful and avoid scams. If you choose a Bitcoin Casino game please ensure that the gambling game you're playing at is regulated and licensed by the government of the country where you're playing.
Look for games that are well-known and have good reviews. Legitimate games that pay real money will have a clear and transparent payout structure. Additionally, be sure to only play games that don't require you to share personal information or passwords. Run away if they ask your credit card information, this is a major red flag.
Final Thoughts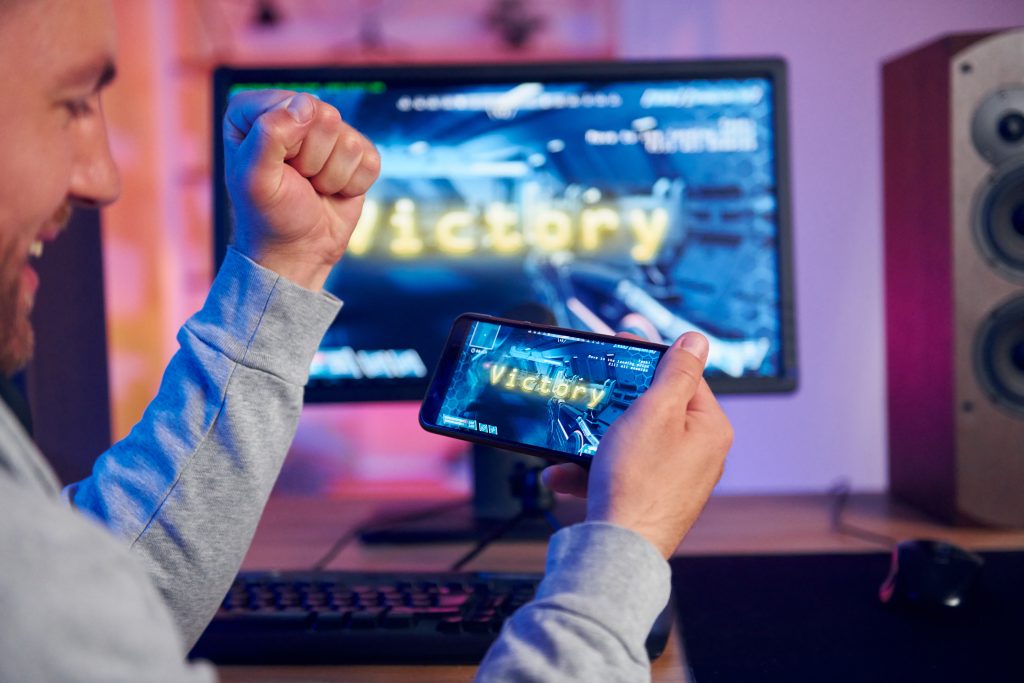 In conclusion, play-to-earn gaming is a revolutionary development in the gaming industry that allows players to earn cryptocurrency while enjoying their favorite games. With the potential to earn free Bitcoins, many players are turning to blockchain games as a means of generating additional income just by playing.
The popularity of play-to-earn games is not only due to the potential of earning free Bitcoins, but also because players truly own the virtual assets they accumulate within the game environment. This is a unique feature that sets blockchain games apart from traditional games.
While many gaming platforms are now offering play-to-earn models, it is important to research and read reviews to ensure that the platform is legitimate and reputable. By doing so, you can avoid fraudulent platforms and focus on playing legitimate play-to-earn games.
The best games to earn Bitcoin on mobile are those that are easy to play and offer legitimate ways to earn cryptocurrency. Some of the most popular games include the new match 3 game, Clash of Pets, as the other mobile blockchain games mentioned above. These games offer a fun and entertaining way to earn cryptocurrency without requiring extensive experience in the crypto universe.
In the future, the play-to-earn model is expected to continue to grow in popularity and evolve, offering new ways for players to earn free Bitcoins and other cryptocurrencies.
It is a trend that is here to stay, and we encourage our readers to try out some of the best play-to-earn games available and start earning Bitcoin today! What do you have to lose, right?