Welcome to Dragonary. The first Free To Play blockchain-based game powered by Coinary. Where players get rewarded for their time spent playing. Dragonary arrives by changing the classic paradigm of the video game industry. Instead of paying to play and eventually paying to win, we offer a new perspective on the player-game relationship. With the new "play-to-earn" concept and true ownership.
Non-fungible tokens and crypto collectibles became hugely popular in early 2021. However, they were not the first video games to use blockchain technology. NFTs and GameFi was here even before most people realize.
As NFTs hit the mainstream, the promising crypto game Dragonary, owned by Coinary LTD, took off. Taking advantage of the GameFi hype, Dragonary arrived to the public. And with it, we immersed ourselves in this new blockchain revolution.
Through the creation of video games, Coinary wants to become one of the most influential entertainment company in the adoption of Web3 worldwide. And thus bring the adoption of blockchain technology to everyone, in an easy, fun and frictionless way.
When Dragonary started?
Dragonary development started in early December 2020. With all of our focus on fulfilling Coinary's vision, we began creating what would become the first game in our ecosystem.
A few months later, on August 8, 2021, we released the first pre-alpha official version of Dragonary, starting with a small team at Coinary offices. We firmly believe that blockchain technology is here to stay. That is why we decided to base our games on this new concept. And we started recruiting some really talented people to help push the game and the company to a new level.
Thanks to the hype of the moment and development through Binance Smart Chain protocol, we were able to mint our NFTs and let users trade them as they please.
The idea of Dragonary
It all started with the meeting of two people who by 2014 were up to their necks in the crypto environment. It was something quite unusual for the date and although it was still a blooming ecosystem, an idea was brewing in the minds of Yohan Graterol and Alejo Chababo. Two cryptocurrency enthusiasts who came together to create what we know today as Coinary Limited.
Although they had already formed teams on previous occasions, the time for adventure had come. They had to define the starting point, where the company is headed, and most importantly: how were they going to do it? Luckily, they shared a vision.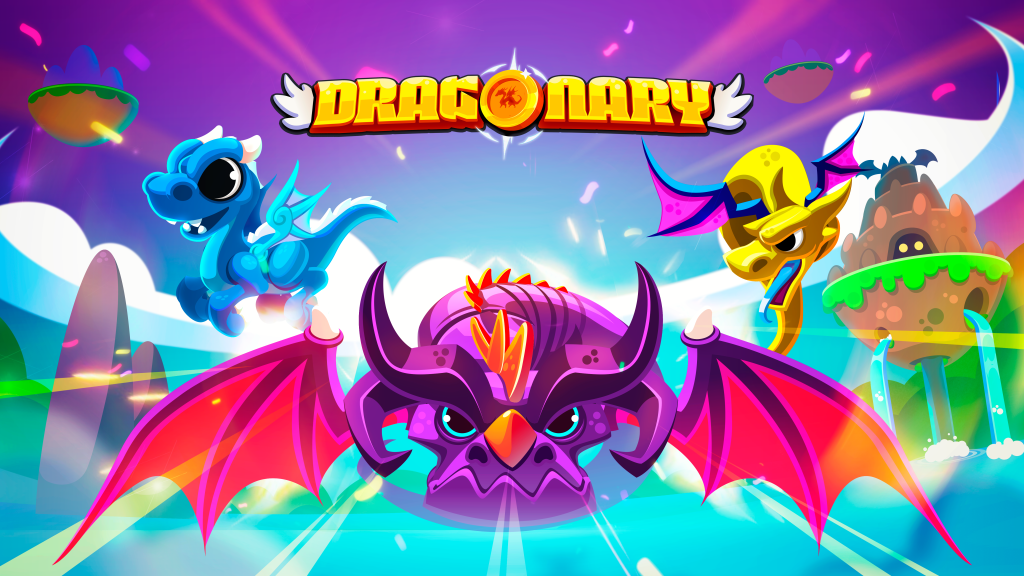 Back then, one of the main problems around the crypto world was the lack of information for Spanish-speaking people. And there the first proposal was born, to teach everyone around the world what is related to blockchain technology. From how the genesis block was created to how to open a web3 wallet. Without neglecting fundamental concepts of mining and trading. Always in a simple, fun, and free way. This is how the YouTube channel was born: CoinaryTV.
A few years later, the rise in popularity of the technology behind NFTs revolutionized the way we view economies in games. Changing the pay-to-win paradigm, we started to build a bridge to empower users through gaming. Giving you true ownership opportunity that came with this revolutionary technology. What better way to learn than having fun?
What kind of video game genre is Dragonary?
Dragonary offers great competitiveness. It is a game that motivates players to keep winning, fighting and improving their assets in-game. To never give up before the battle is over because, after the fight, there will be better rewards.
Dragonary combines the best aspects of each network and offers a unique player experience. It is a free-to-play tactical RPG video game. Which provides users with instant access, without the need to download additional plugins. A game that, after downloaded, is ready to be played.
The main difference between Dragonary and classic games is that the entire economy is defined between the players. This means that all assets that are part of the in-game market, such as items and dragons, are tradable. If you buy an item today, it's really yours! And you can exchange it at any time. And if an item is used to upgrade a dragon, that dragon will increase in quality and, consequently, in game value.
Dragonary is an online game universe where players can collect dragon eggs, breed, and raise new dragons, training them to form an unstoppable team.
Is Dragonary related to the rest of Coinary's games?
Although we want you to be able to interact with the different games, not all of them are connected. But Fantasy Racing, our second game in development, it is indeed connected with Dragonary and this is because the NFTs. Nowadays, Fantasy Racing is still in development, but if you want to have a kart you can sacrifice two rare NFT dragons. Nevertheless, It does not mean that it is the only way to play. As Dragonary, Fantasy Racing is a free-to-play game as well as the whole ecosystem that we are building. You might have seen Elon from the YouTube channel jumping into the screen of Dragonary and now enlisting himself as a Driver.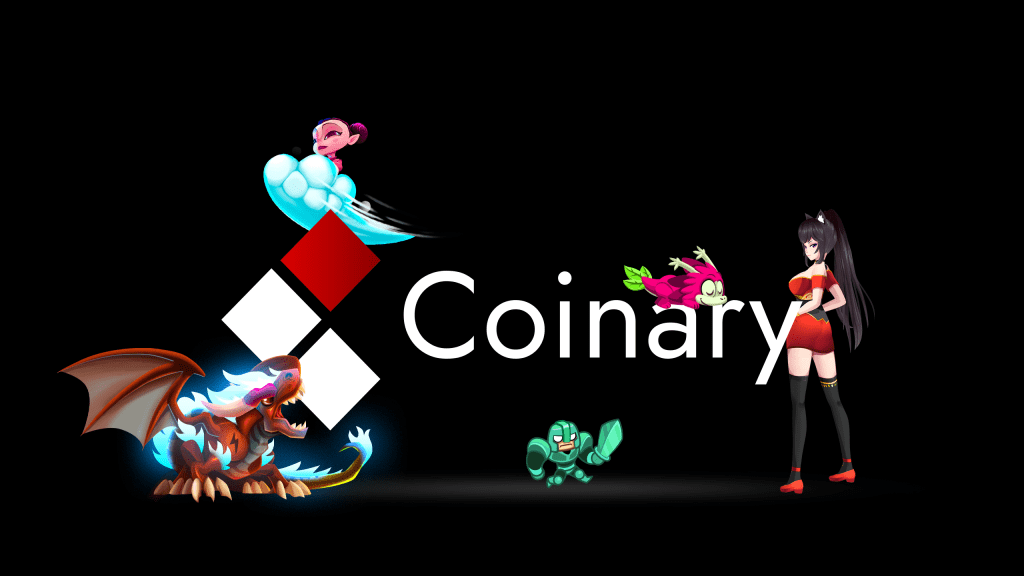 We are developing casual games that will not only be for fun, but will also reward players with items that can be used within the Coinaryverse. This includes tokens and NFTs! We're also working on a separate project that goes beyond the brand in every detail. It's an individual and independent game from Dragonary and the other games. This project is Waifu Studio.
Dragonary's Gameplay
Dragonary is a game that takes advantage of all the benefits that the blockchain has to offer. Through its smart contracts, the game provides a place of endless fun and entertainment where dragons are the main characters. These fire-breathing beasts are the superstars of Dragonary. Every tamer will consecrate himself as such after putting together his first team of Dragons. Evolving through battles and blood. Hatching their destiny.
The game has two main game modes: Player vs. Environment (PVP) and Player vs. Player (PVP). Within each possibility is a world of entertainment. The PVE stands out for its missions where dragons can gain experience and tamers can gain skills. And if fortune is on your side, maybe you'll get some rewards to help you on the path of the dragon. But nothing compares to the taste of victory against a strong opponent. If it is from a rival clan, it is even better. Will the guilds go to war?
The official battles are held in the tournament of the guilds hosted by Coinary, with the battles taking place in the best E-Sports style. We are grateful to our partnership with Heroic Labs, which has given us access to ultra-optimized servers with Nakama. An open-source, scalable game server that lets us focus on building the games. For thousands of users to connect simultaneously without losing connection stability.
Player vs Environment—PVE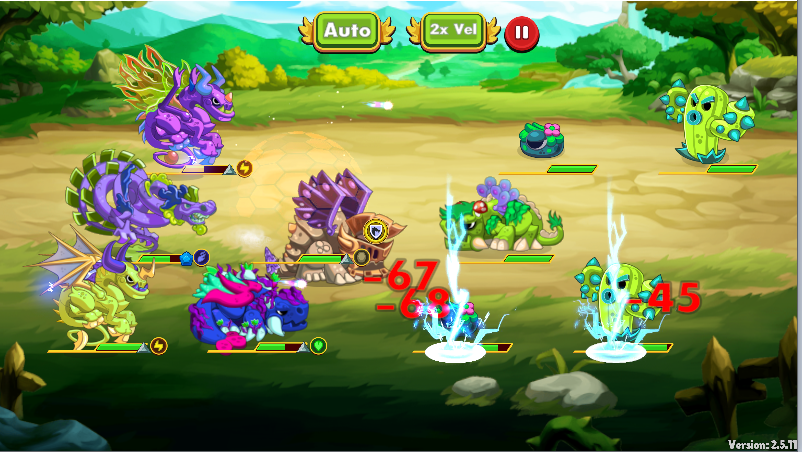 Welcome to the adventure. In this mode, you will find yourself in the lands of Dragonarya, looking for chests while your team burn their enemies. The game modes are as follows: History mode, Embers, and Dungeons missions. It is a place for tamers to test their skills and strategies against the AI ​​through a semi-automatic battle-style system.
Likewise, players can decide the speed of the game and can increase it up to 2x if they wish. They must also complete the quests if they want their dragons to rise in rarity. No more than five dragons may enter the Arena, and no less than three.
Players will be able to choose whether they want to control the abilities of their Dragons or let the automatic mode work its magic. This will automatically trigger the active abilities against the enemies. If you select to take the path of the Dragon and master the QWERTY, you will have to be quick, as you will only have 3 minutes to finish off Darkwing's spawns.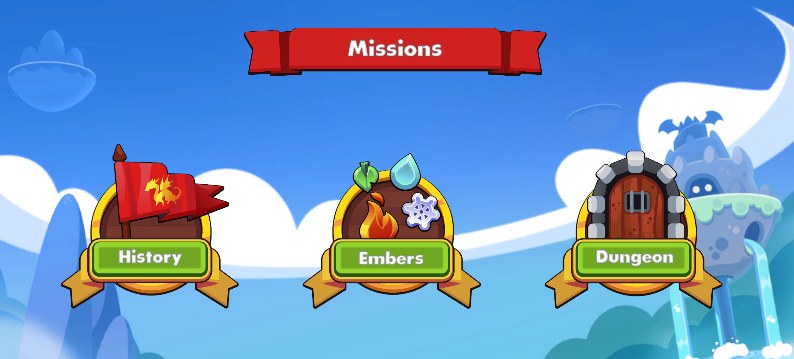 History Mode
In this game mode, tamers will venture into the history of Dragonarya, slaying corrupted dragons. Darkwing's followers, who want to destroy the enchanted world of Dragonarya. According to the mission, at least three battles must be fought to receive the rewards and experience. The fallen dragons will not receive anything from the battle, so you should consider your battle strategy carefully before each fight.
The experience you gain assures the healthy and natural growth of your dragons. The higher they fly, the rarer they will be. Each mission will present a new set of enemies, and at the end of the level, each team will face the level's boss.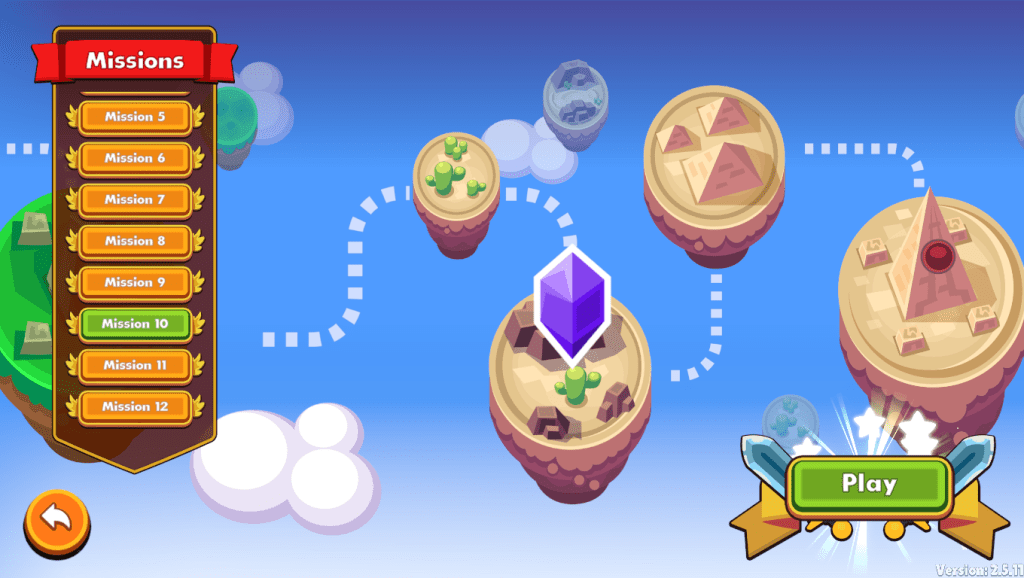 Story missions do not reduce your energy level, so you can play them as many times as you want. Twelve missions are available, and those who complete them will reach a thirteenth quest that is still in development. An endless mode for those who overcome all barriers and want to measure themselves against a different way of fighting. In this last mission, the tamers will face waves of enemies to push their limits a little further and reach new levels with each attempt. It is a mode for those who enjoy personal challenges and want to show off by reaching higher than any other.
Embers Mission
In this mode, there are seven different missions, one for each original element, and three different difficulties. These missions require energy each time one is started and will be deducted from the user's account regardless of the mission's outcome. Regardless of whether the tamer wins or loses, they will spend 10 energy points.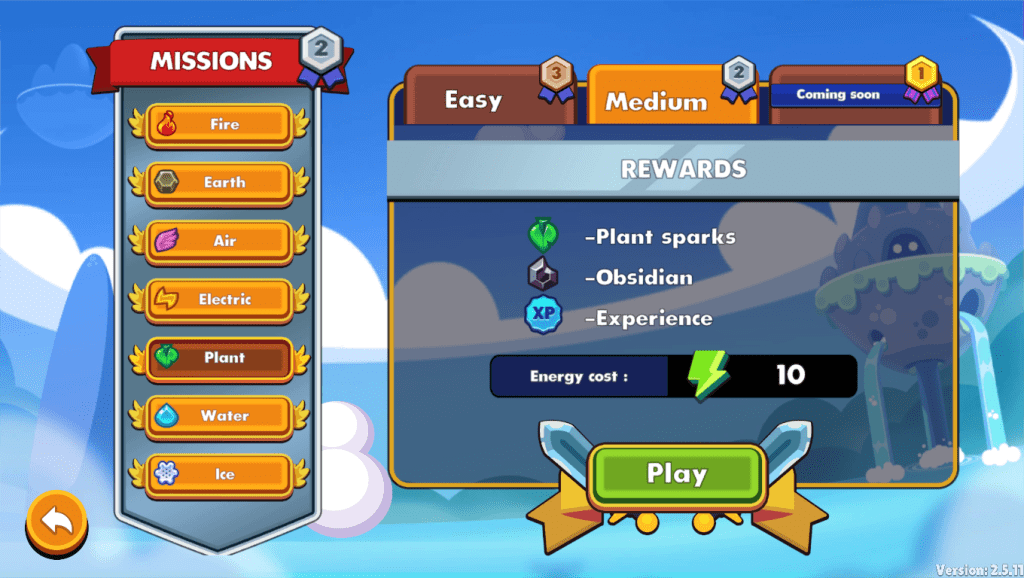 Here, the fights will be against dragons that have been influenced by Dragonarya's number one enemy. Each tamer must face the elements and thus control the abilities. What better way than to fight them until you can dominate them? Petra in the embers of the earth missions waits to hit and bury anyone who tries to get past her.
Dungeons Mission
What we were most worried about has happened. Dark wings minions have settled in the dungeons of Dragonarya. In these missions, the tamers will face corrupted dragons. These are PVP-like missions against a very skilled AI. The missions here are not easy at all, the slightest blink can make you lose one of your winged friends and causing you to lose the war.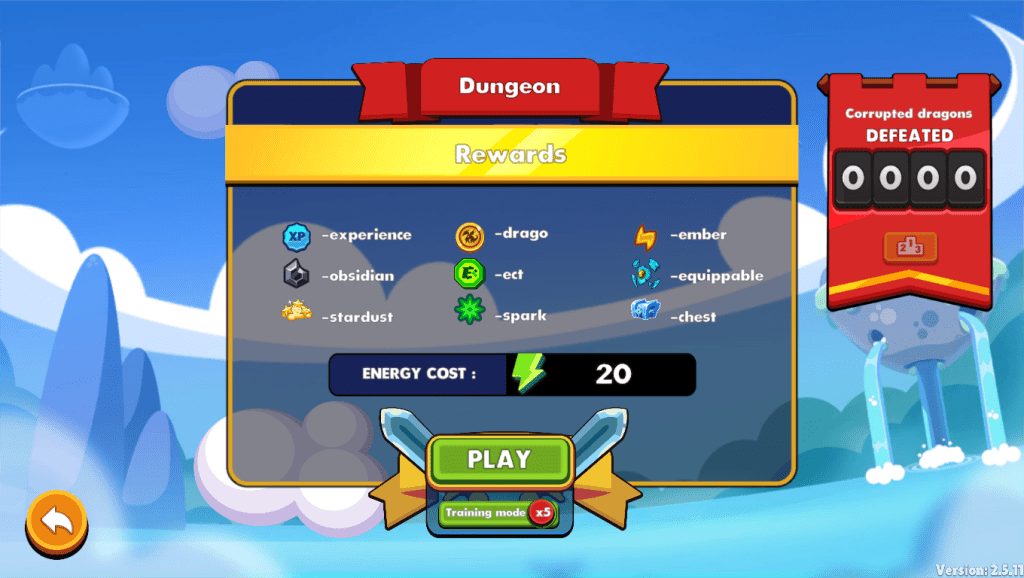 All tamers will have to do their part and kill those corrupted dragons if we want to save Dragonarya. Take care of the formation and hold the strategy in order to earn the best rewards in the entire kingdom.
Player vs. Player—PVP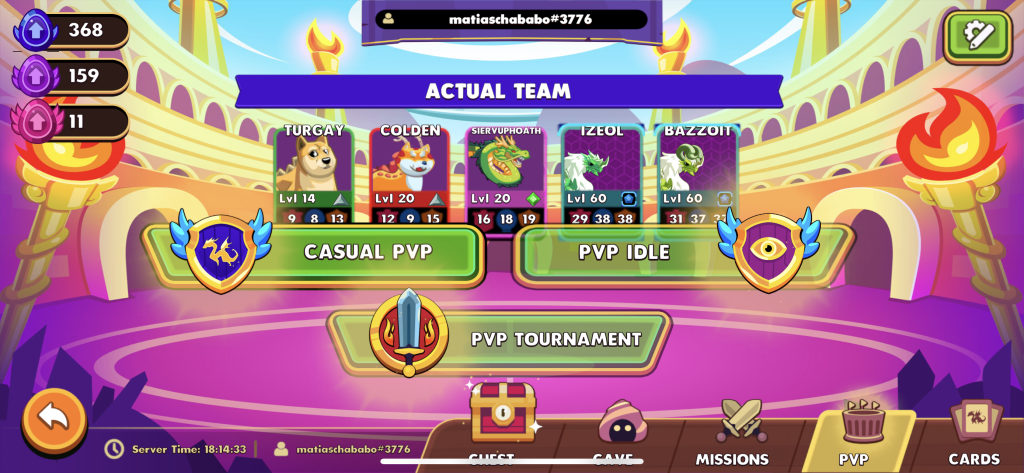 This is where the battle gets real. Where you can run but not hide. The competition is here. Welcome to the Arena. The place to challenge other tamers and show who is the best tamer. Players must face off in a battle of skill and magic with a team of 5 Dragons. The team who reacts the fastest will win. A mistake can compromise the outcome of a game.
Regardless of rarity, all tamers are welcome to play this mode. To balance the battles, the dragons will be leveled at level 60. This allows the ability of each one to define the final result of the battle and not the money invested in the game. Where two teams meet on equal terms to decide who is the better fighter. The battles won't last more than five minutes, and after this time the team with the most standing dragons will take the victory. In addition to the Classic PVP, there are two more ways to play against other players: The Dragon Match and the Tournaments.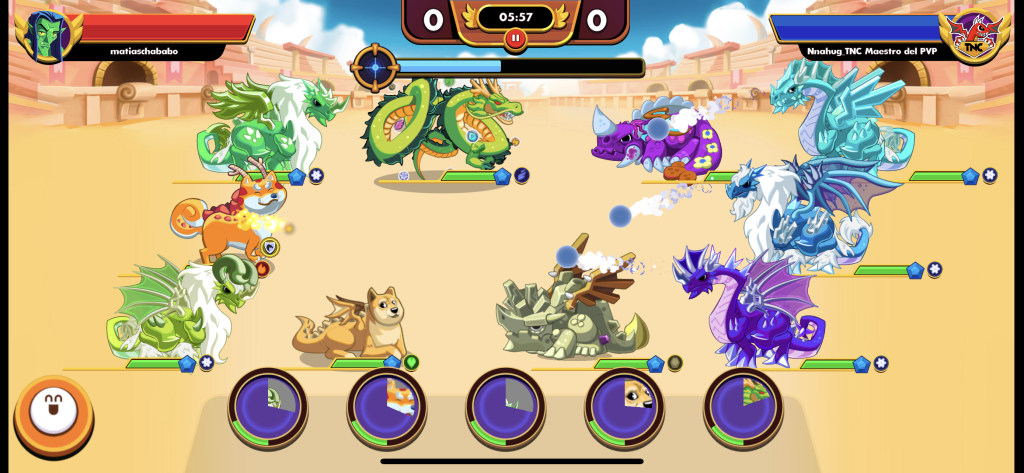 Dragon Match
These missions are something similar to an automatic PVP mode. When the teams are chosen, their combined power will be evaluated. This mode has two categories based on the prize being fought for: ETC Match and Drago Match. Both modes are the same. The match will be summarized by the game itself, and after a few seconds, the winner will be shown. The verdict is based on the statistics of the dragons as well as other game variables.
When starting a match the game will automatically search for an opponent and after finding one it will show the stats of both teams ready for battle. But you shouldn't start without consulting the odometer. In case it isn't in your favor, and you would rather not leave your fate to an unlucky chance. You can still pay a small commission in Drago for skipping your opponent.
Tournament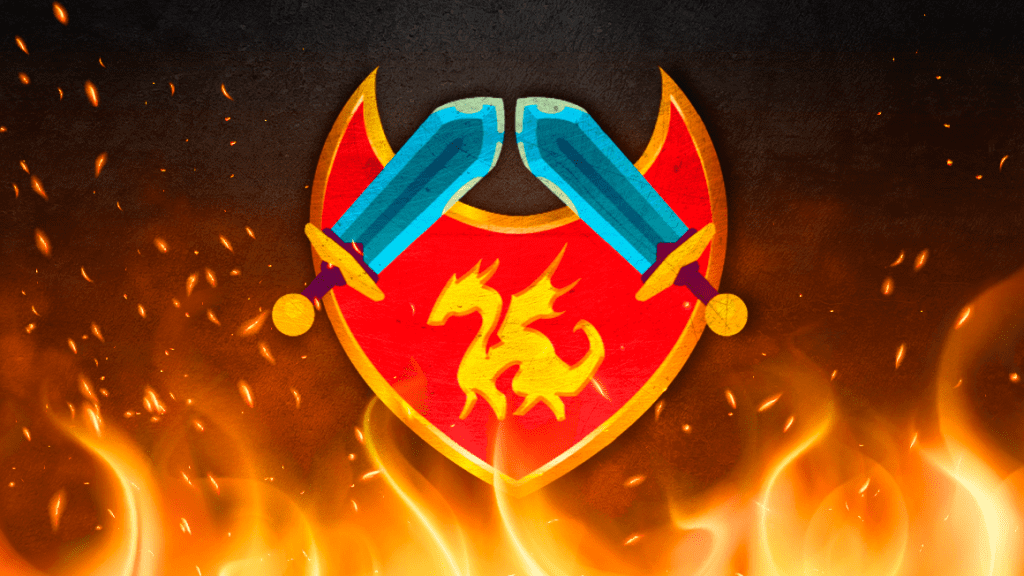 The tournaments are the most anticipated celebrations, these battles manage to bring together the biggest Dragonary enthusiasts. Those who don't miss a fight and are usually the first to arrive at the Arena. At Dragonary, we were honored to hold the first official Clan tournament. Although, guilds have already experienced fierce competitions with each other for quite some time. We were able to bring together the best tamers from "Xcution, Under Dragons, and Team No Cry," although Dmoledores was unable to join. He was, however, supportive and encouraging to the teams.
A tournament with more than $3000 USD in prizes was held by Coinary where not only the three best players took the glory, but the two best guilds that represented them also took prizes. Because training these excellent tamers was not an easy job, they deserve that and more.
Stamina, Energy, and Stardust
The Dragons will get tired after a long battle. It is not the same thing to perform once than a thousand times. Let's review those magical features that will recover and bring back the strenght of the Dragons.
Stamina
This feature will be used as an energy payout. It is like the vitality of your dragons. For each battle, they will lose some.Stamina is unique per account and not per dragon. This will determine how tired your team is and if they can keep fighting. But every player can recharge it using the magic powder of stardust. There's a commission in ECT in the process that will get you back to the fight.
Stardust
An ancient powder from the deepest side of Dragonarya with magical properties. This type of energy is essential if you want to keep your dragons in battle. They will be a fundamental piece when recharging the stamina of your account and thus keep your dragons strong and powerful. Stardust is an item that you can only get as a reward from Ember and Dungeon missions. Your dragons will be ready to fight longer and defeat all enemies to keep the adventure going.
Energy
The energy is used to test skills on the ember missions or to enter the dungeons. Players will lose some points for going into these adventures, and it can only be recharged over time. There is no magic or spell that can modify the energy once used. Think that our winged friends can recover their strength by sleeping for about 24 hours. And this is the main difference that energy has with stardust and stamina.
How to set up the First team of Dragons?
In Dragonary, we don't let players start empty-handed. The idea is that you can play right away. All players upon first login will discover 3 common Dragons in their barracks. They should train them very well if they want to measure up in the Arena. With them, any apprentice can begin to shape their destiny on the path of the dragon.
What sets the rarity of an account?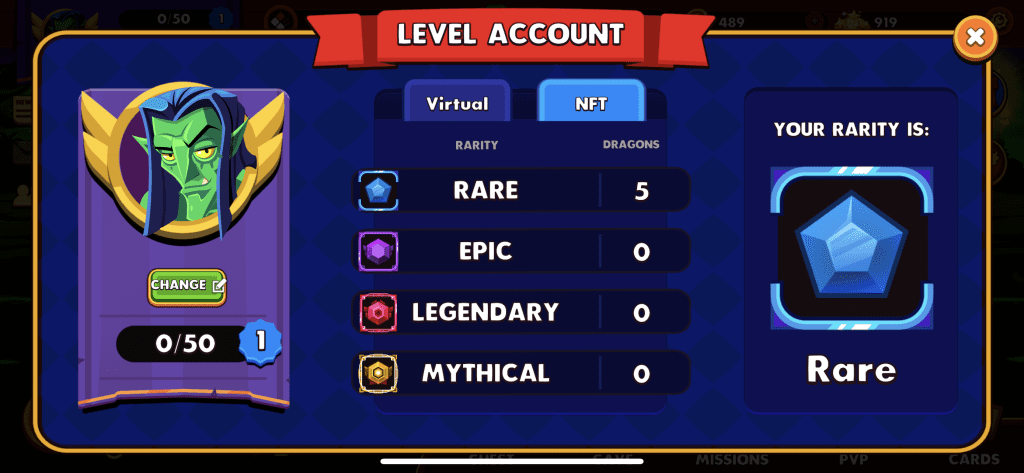 Imagine Dragonarya existing in two realities, the NFT and the Virtual. However, in the game, there is no difference. Virtual Dragons has the same features as NFT Dragons. The main difference is that NFTs can be traded on any available marketplace and also allows you to get rewards in $CYT.
Furthermore, all accounts have a status, which differentiates them from one another. The rarity of an account is determined by the number of Dragons on the team that share the same rarity, with a minimum of 3 Dragons required to set up correctly. The dominant rarity in your barracks will determine the rarity of the account. In Dragonary, accounts are classified into five types, with Common and Uncommon being the first two. The remaining three are Rare, Epic, and Legendary accounts. And the most enthusiastic players, the possibility of Mythical! Nowadays, Mythical rarity is not activated
Rarities
Rarities are one of the most important features of Dragonary. We have stated 6 different rarities to make sure the game economy remains sustainable. The total sum of the base stats, and the way to obtain the dragon, will determine it's rarity:
Common: total stats between 30 and 49.
Uncommon: between 50 and 89.
Rare: 90 and up.
Epic: will be the result of fusing rare dragons.
Legendary: will be the result of fusing epic dragons.
Mythical: will be the result of fusing legendary dragons.
The first 2 rarities are Common and Uncommon. Dragons with these kind will be virtual items: they cannot be bought or sold in the marketplace, but they will be vital to get better dragons.
All NFT Rare, Epic, Legendary, and Mythical rarities will be tradable in the Coinary Hub marketplace. All rarities will be available for all dragons, and will also apply to other items in the game, which will allow us to consider them as NFTs and can be traded in the marketplace, too. Also, remember that you can have Common, Uncommon, Rare, Epic and Legendary Virtual dragons. Those dragons won't be NFTs, so they won't be tradable.
What is the token of Dragonary and its economy?
At Coinary, we prefer that you relax while we do all the hard work. Because we know that between users and the blockchain, there is a difficult barrier to overcome. Here are the data of the economy of the game:
Coinary Token—CYT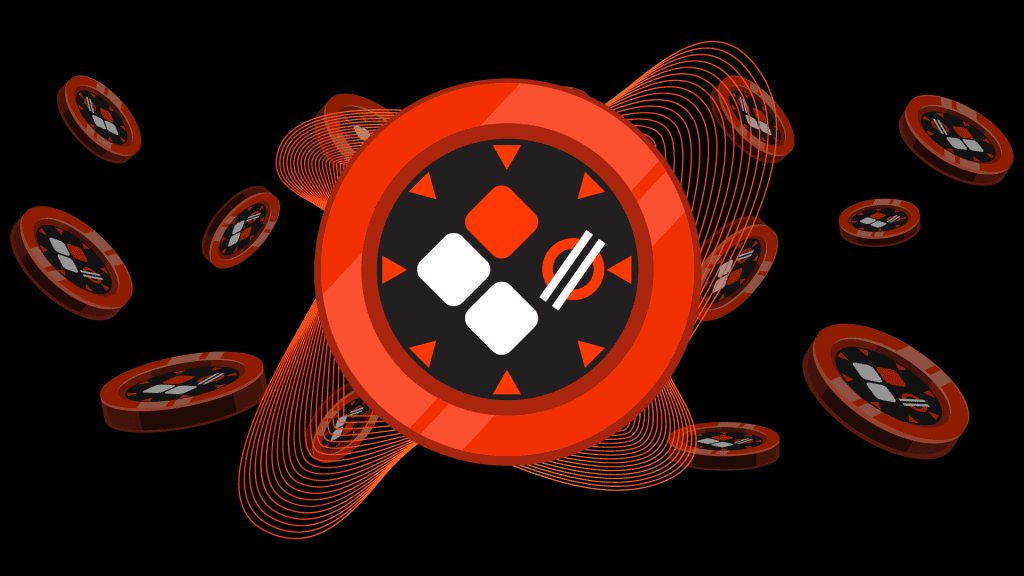 The Coinary Token is the reliable, easy, and fast means of exchange within our ecosystem. It is the currency of governance in our multiverse. Players can buy and sell assets in the marketplace, paying in $CYT. It is a token that follows the BEP-20 standard, and has a maximum supply of one billion tokens to be distributed over a 10-year period. Take a look into the tokenomics right here!
The purpose of the token is to acquire any asset in the Coinaryverse. The idea is to keep all products for sale in $CYT to increase the flow of token transactions by increasing buying pressure. Users must use $CYT when fusing an item or a Dragon, as well as to keep any items found in chests.
CYT was launched in the Binance Smart Chain. Every CYT Holder will have benefits on its weekly distribution. The amount of CYT they will get, it's according to their percentage of CYT relating to the total of it in stake.
Nowadays, we can find more than 200,000 token holders and a record of more than 3 million transfers!
How to get $CYT
As the ecosystem grows, we introduce new tokens into the economy of the games we are building. It should be noted that the distribution of $CYT is exclusive to Dragonary. And this currency can only be earned through this game. Basically, there are two different ways to do it:
In-game: taking another step towards the play-to-own revolution. Every player with an NFT account will receive the $CYT reward, regardless of whether that user played the game or not.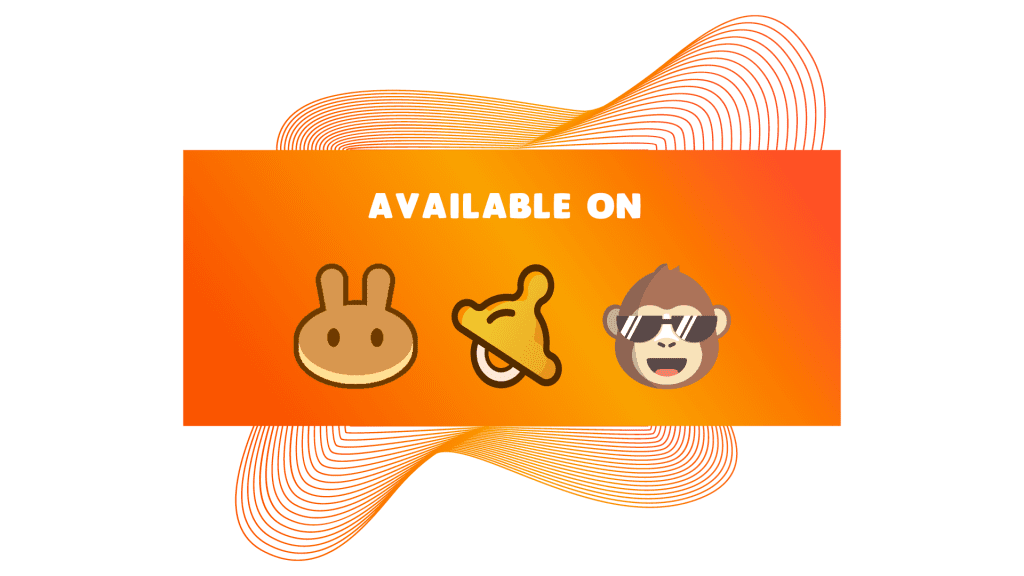 $CYT Halving
Having a fixed supply is considered deflationary in the world of cryptocurrencies. As it's explained on the Whitepaper, the goal with the CYT is to limit the maximum supply to one billion tokens, to be distributed over 10 years.
As it happens in the big bitcoin halvings every 4 years and since more than 70% of the tokens will be given to the players. We have created a day one halving system to reward devoted tamers. In the first 90 days, the maximum distribution was 1 million CYTs per day. Over the next 90 days it was cut in half from the previous cast and so on once more.
Currently, the distribution is set at 125 thousand CYT per day. Though, we are distributing around 218K CYT each day to our users. After the third halving took place on May 21, 2022. From now on, the emission will remain fixed for the rest of the almost 9 years ahead.
The Store
It is available for all users, regardless of their account rarity. Items for sale allow any user to customize their profile within five categories, users can shop for skins, arenas, emotes, and much more.
If you wonder, where they go for all the tokens collected from the user's purchases in the Store. Well, 4% will go to the Coinary Treasury and the remaining 96% will burn.
Drago
We want to create a free-to-play game that is accessible to those who wish to enter the crypto world. To accomplish this, we are introducing DRAGO, our new in-game virtual token that allows players to advance in the game without needing to invest. DRAGO will allow everyone to enjoy and progress through the game, regardless of who they are. Due to the nature of being a virtual currency, it cannot be exchanged for NFT or real money. But it is the best scalable solution for achieving the highest level of game experience.
Islands
Islands are the most unique NFTs in Dragonary. In the universe, there are 777 that emerge from the tree of life. This maximum supply is associated with the original 7 elements. And that's only the beginning, the owners of an island will have a significant boost in the dragon's stats of the same element. But, what about the new elements that appear in Dragonarya? Good question, in the case of the Poison Dragon, it will be associated with the plant element because of its affinity with it. So owning one of those 111 plant element islands means boosting the stats of two elements.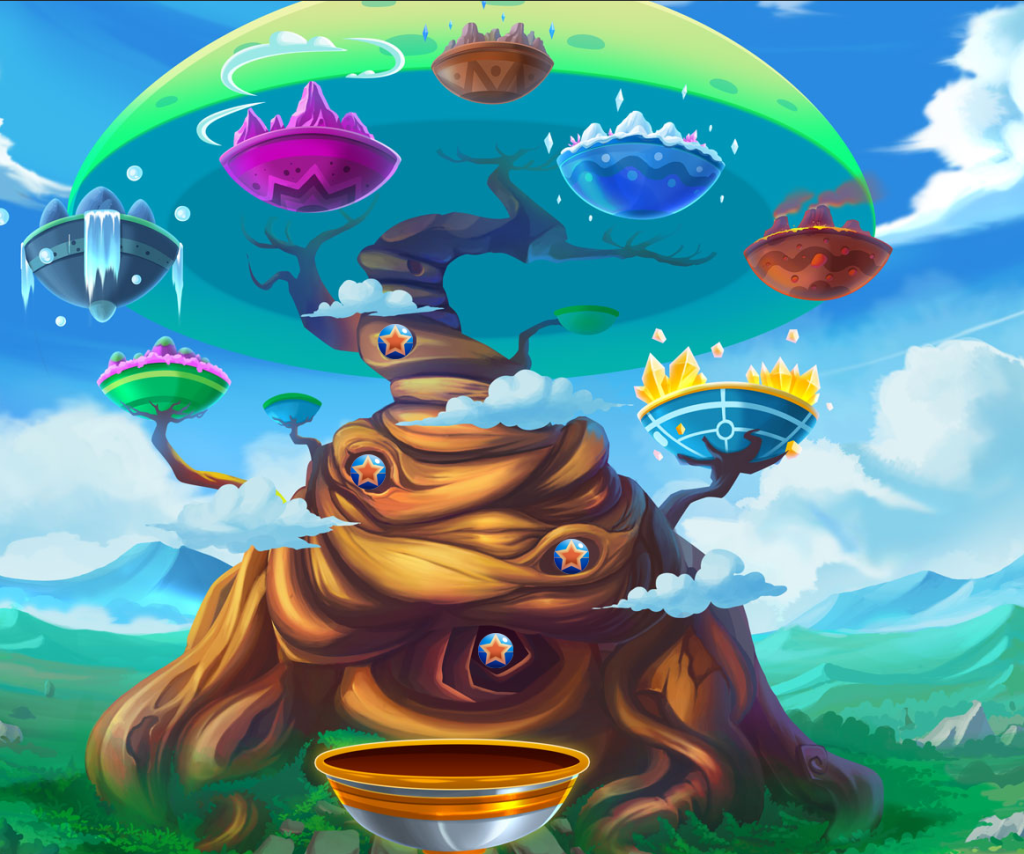 These were first launched in the exclusive IGO on the Binance NFT Marketplace. Island owners will be crucial in making decisions about the evolution of Dragonary. As well as a fundamental asset for the growth of the guilds. The owners of the islands are their rulers, they can host internal tournaments with freedom of decision. With the extra financial benefit of staking CYT—they will have a higher ROI.
Dragonary Rewards
Within each battle, there will be rewards. It doesn't matter whether you play a mission or a PVP battle. In addition to the dragons rising in experience, player accounts will also benefit. The best thing that can happen to a tamer, after a long day killing Darkwing's spawns, is running into a chest.
Chests are magical. They are the most awaited rewards in Dragonarya. Tamers who discover one will test their luck and discover its incredible rewards! Regardless of the rarity of the account, tamers will have the possibility of discovering new items, eggs, skins, NFTs and all kinds of virtual objects.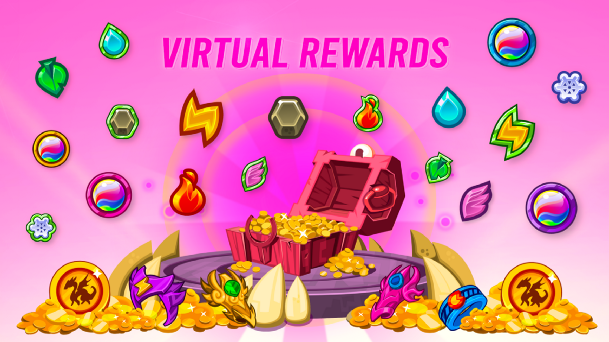 The rewards are countless boost items to level up the Dragons and your army stats. But, not all chests are the same, some of them are hard to get. You will have to complete the quests and defeat the corrupted dragons by venturing into the dungeons.
If you know where to look, they are not difficult to find. For those who want to challenge fortune, the lucky chest can be opened immediately and is always available. Only this chest does not have an opening mechanism. The rest of them have a magic lock. As soon as you agree to open the magical chest, the lucky sands begin to fall onto the counter that separates the tamers from their rewards. Unless you pay the right price. One thing is sure, better quality chests have longer waiting times, but better rewards.
About Dragonary Guilds
Games have always been social activities. The players always look forward to forming Guilds and competing. It's because of the rush of finally defeating other tamers and getting that achievement inside a cluster. And in Dragonary it's ok to be a lone wolf and get all the credit but, the world change when you're in a clan.
Being at the top, there is no player who doesn't like to show off. Who doesn't want to presume those high scores that separate rookies from legends? In Dragonary, clans began to emerge even before we enabled it. Exactly, they got together in telegram groups to get organized. Collaborating with each other and hosting internal competitions. With real rewards!
As Dragonary evolved. We officially welcomed guilds, which are groups of tamers who have officialized their clan. Carrying their flag with pride, honoring their words and the roadmap. Because the guilds are part of the very core of Dragonary. We want to encourage them to increase their numbers, improve their equipment, and help them master their Dragons.
Many of its members are early adopters. Tamers who have been with us from the beginning and helped us improve the user experience. Being the ones who participate the most in the game, and thanks to the feedback we receive, we can move faster. Since Coinary is all about empowering gamers, we officially decided to open the doors to a channel within the development of all our projects. They have a crucial role in the beta testing of Fantasy racing.
Only those who are members of a guild are allowed to compete in the official tournaments in Dragonary. Hence, the name of the contest: the guild's tournament. However, competitiveness goes beyond what is official, and they have started holding their own internal tournaments among themselves. Some were of the utmost importance because the champions that would represent them in official competitions were chosen from these internal contests.
How to start playing Dragonary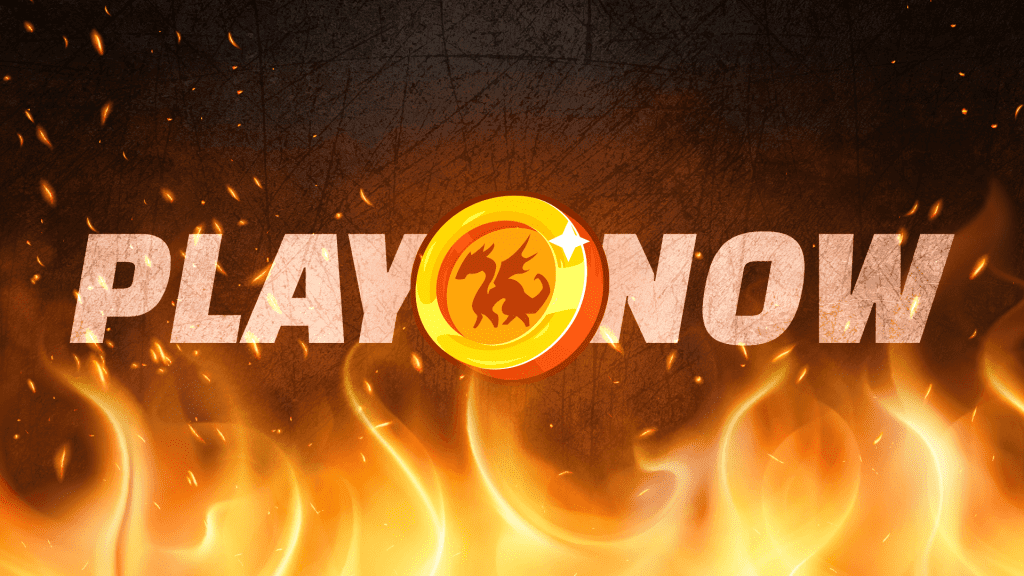 There is no place to buy Dragonary. As we have mentioned several times before, it is a free-to-play game. Where you can invest, owning NFT-Dragons and items, but it is not necessary to play. You can always read the Whitepaper of the game for more details. And you can access it easily on a PC, laptop, Mac, or almost any Android and iOS mobile device. Use this link to find where to download Dragonary:
Start Playing and Become a Dragon Tamer.
Dragonary is not exclusively for experienced players. Although the clans accept those who are starting and help everyone in their beginnings. A game that is constantly growing has a team working to reduce its learning curve. For everyone who is new to find a world of entertainment with no friction or barriers.
Thanks to our entire community, we have been able to achieve exponential growth in a very short time. It's outstanding when looking back the journey that has brought the game to where it is today. We reached more than 1.3 million registered players with more than 50 thousand transactions towards the game in less than 24 hours. And let's not forget that we were invited to be part of Binance's "Most Valuable Builder III" (MVB) program, which indirectly brings great benefits to the entire Dragonary ecosystem and community.
The end of this path is here. We call all tamers of Dragonarya to show their skills and fight against the evil forces of Darkwing. It is time to set up your team of Dragon and Hatch your own destiny.